Scorching Hot Planes & Icy Airways Adventures!
A Song of Ice and

Fire

. . .
Folks, I hope you've been avoiding the scorching heat out there, unlike I have. Being based in Phoenix, AZ, and experiencing record high temperatures (approaching 120°F/49°C), we've been in the news lately.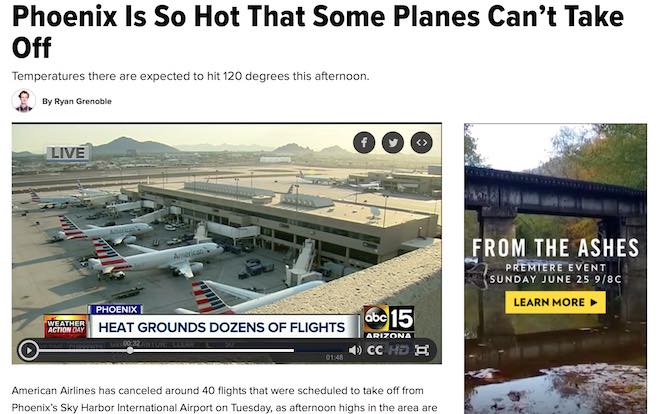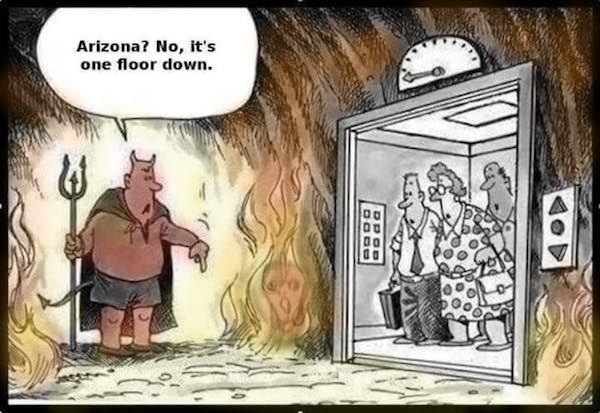 This week, it's been so hot, that many flights have been canceled. Why? Because the temps have risen above the performance data required to calculate a safe takeoff.
Keep in mind that, at these extreme temperatures airplanes don't start falling out of the sky. What's happening is that, as the temperature increases, performance decreases.
As the temperature rises, the air becomes less dense, requiring more airflow over the wings—i.e., faster speeds—for takeoff. The engines must work harder to force more of this less-dense air through them to produce thrust. All of this conspires to longer takeoff rolls, and reduced climb performance.
The reason many flights were canceled, however, was due to the fact that many aircraft do not have data that calculate the exact performance at these high temperatures, as is required by FARs.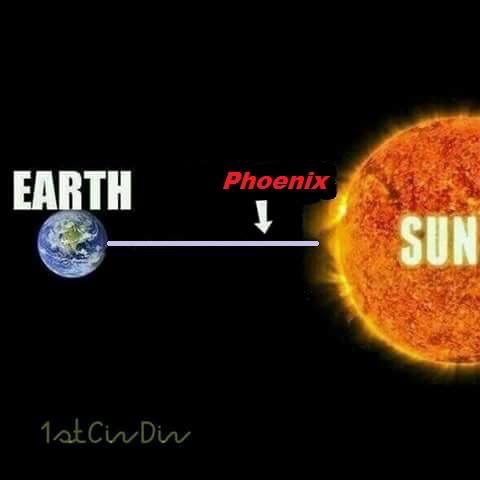 We had this issue in the summer of 1990, when temps reached an all-time high of 122°F (50°C!) For a few hours, ALL planes were grounded at PHX, as their data only reached 120°! Since that time, Airbus and Boeing have provided data into the 130°s.
  While we didn't have that problem on our flight yesterday, we nevertheless did indeed have a problem taking off out of LAS (Las Vegas.) At 111° F (44°C), with a fully-loaded A321, we were just a smidgen above the max weight allowed for takeoff. (Takeoff performance for airliners is calculated based on the "worst-case scenario"—an engine failure right at rotation for takeoff.)
The only thing we could do was wait for an hour at the end of the runway for 1) the fuel to burn down, and 2) the temperature to lower . . . by . . . 1 . . . degree! Well, the fuel burned down, but the temperature refused to do nothing but, eh, "burn up!"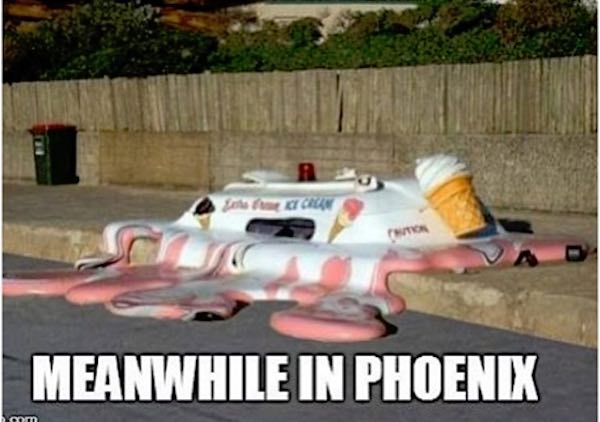 In the end, we had to return to the gate for more fuel, and possibly offload some cargo. This would have been ok, but then we ran into another issue: our flight attendants timed out! They had gone over their max duty time allowed by law, and were no longer legal to fly. Unable to provide another crew at an "out station" (LAS is not a hub for us), the flight canceled.
  Such are the issues we must deal with on a daily basis in the airline industry. True, this is an extreme case, but this may give you a feel for all the issues going on behind the scenes of your flight, as each factor must be juggled—aircraft performance, crew duty limits, etc.
Enough about that—Time to Think
Cold

Thoughts!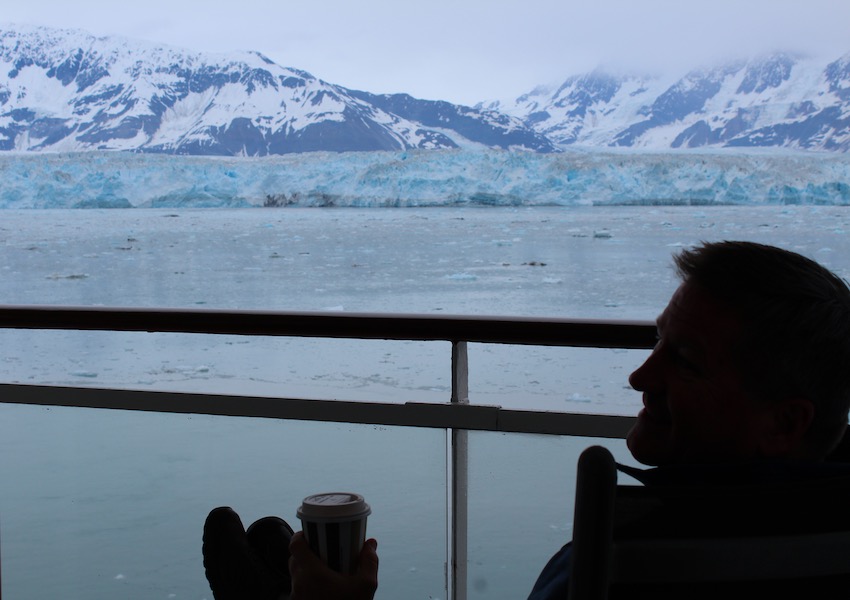 Scorching Hot Planes & Icy Airways Adventures!
Last week, we got to have fun exploring Seattle and Boeing Field. This week, I want to bring you along on our Alaska cruise, organized by Airways Magazine.
But First . . .
THANK YOU ALL FOR THE HAPPY BIRTHDAY WISHES!!!
With all the other shenanigans going on this month, I wound up having to fly over my birthday. No matter, you all made it special, including one very special surprise by my crew, who had been tipped off ahead of time by the ever-sneaky Team Aux Producer, my girlfriend, Bunny!
Also, I would like to thank those of you who sent me private messages and videos, including this nutty one, masterminded by one of our dearest Blog Buddies, First Officer Karim E!
Direct Link: https://vimeo.com/capnaux/happy55
And Now . . .
Air

ways

Magazine Alaska Cruise!
 
Cleared for Takeoff!
Scorching Hot Planes & Icy Airways Adventures!
We set sail from Vancouver, under a spectacular, cloudless blue sky, aboard the Celebrity Millennium. Our group consisted of several Airways Magazine staff, writers, Editors, and nearly 30 readers from around the world. Some I had met on last year's Caribbean cruise, others—such as my great friend JR—I'd met right here on Cap'n Aux blog. Needless to say, the party was already under full swing before we even left port!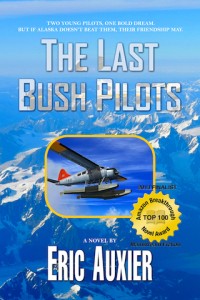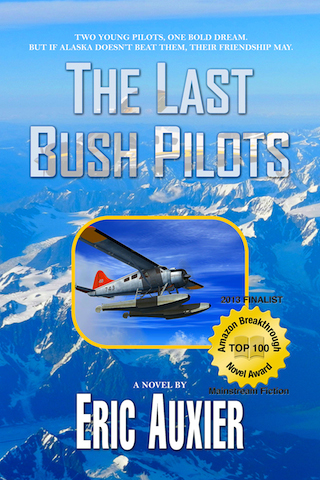 Having flown in Southeast Alaska "Back in the Day" (circa late '80s), I volunteered to be the first guest speaker to talk to our enthusiastic group.
Dusting off the old photo albums and scanning them into a Powerpoint presentation, I was able to regale the audience with some wild and crazy adventures flying the Alaska bush, which also inspired my novel, The Last Bush Pilots.
We talked about life in the skies over Alaska, and how a bush pilot operates. I was also able to give them a preview some of the spectacular land we were about to visit.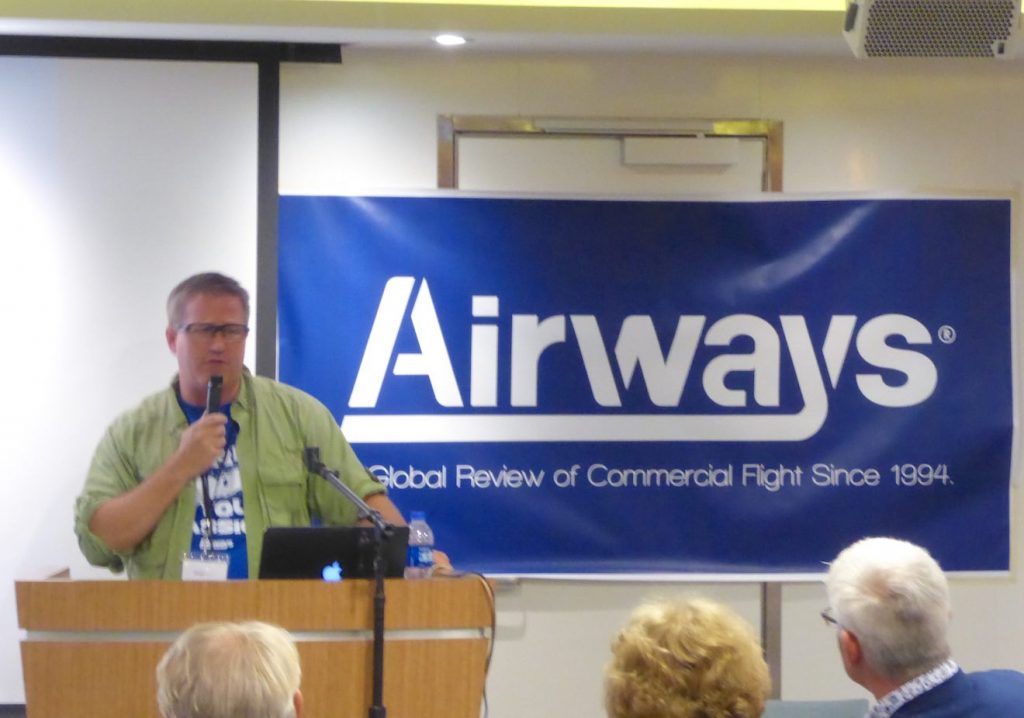 Be sure to see the 2-minute video, an excerpt from my talk, below!
First port of call: Ketchikan
Scorching Hot Planes & Icy Airways Adventures!
Miraculously, the spectacular weather continued to hold, as we enjoyed a full day in gorgeous Ketchikan.
My close friend Kevin H, who got me the flying job in Alaska way back when—and was the original inspiration for the character of Allen in The Last Bush Pilots—still lived here, along with his lovely wife Elda.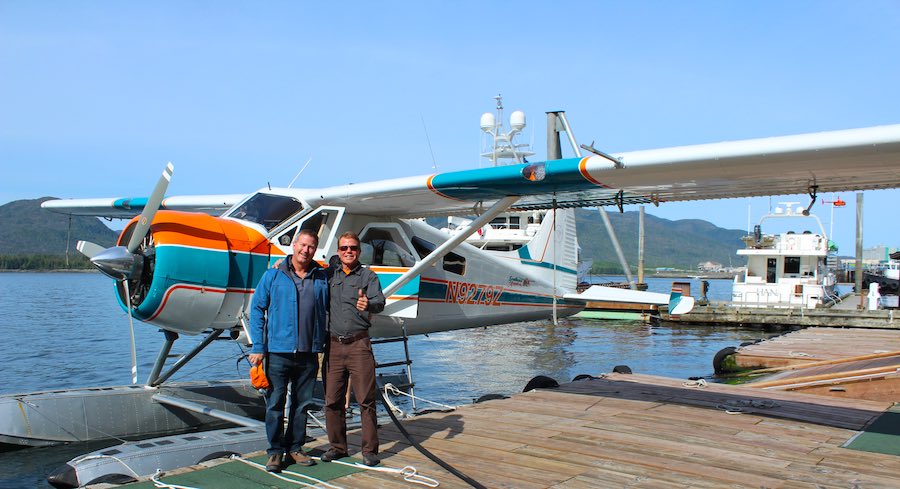 Kevin still flew as a bush pilot, and at the end of his very busy day flying tourists around the countryside, he treated me to a private, 4-minute quickie flight to reposition his deHavilland Beaver Floatplane for service. Needless to say, I was thrilled!
Here's the full, raw video of Kevin flying us down channel—enjoy!
Direct Link: https://vimeo.com/capnaux/ketchfloat
Congratulations, Cap'n Kevin, on 30 Years of Safe Flying in the Alaskan Bush!
Here's a gallery of some of our Ketchikan adventures!

—  —  —  —
Captain Alan Carter
Scorching Hot Planes & Icy Airways Adventures!
Next, we were treated to a fascinating—and hysterical—presentation by the ever-entertaining Captain Alan Carter.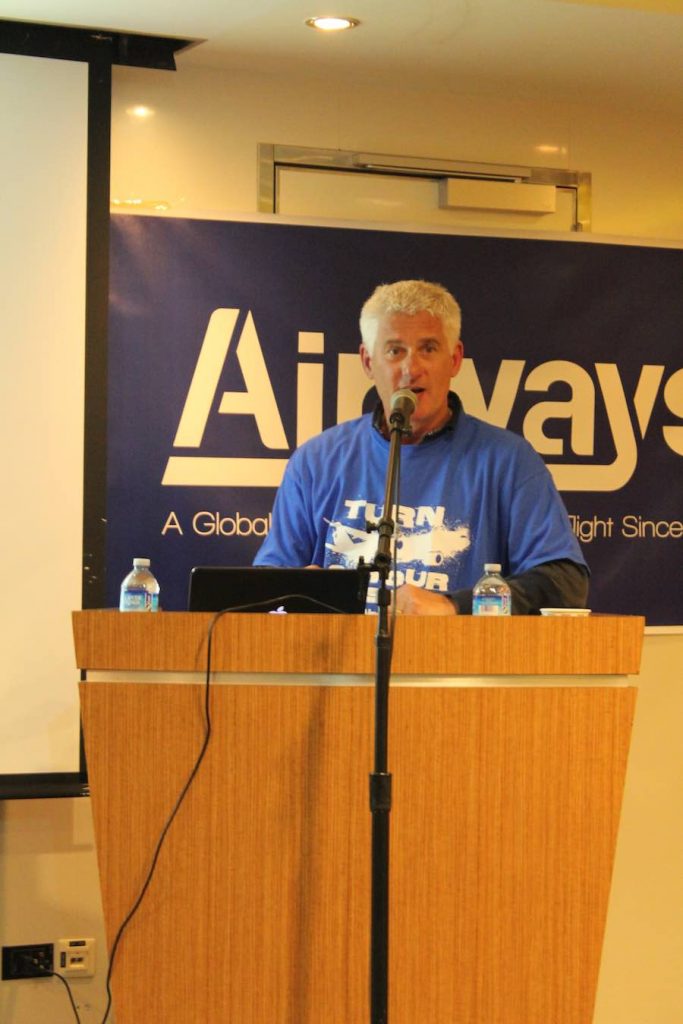 A long-time Boeing 747 Captain, Alan has circled the globe on heavy metal, to some of the diciest places on the planet.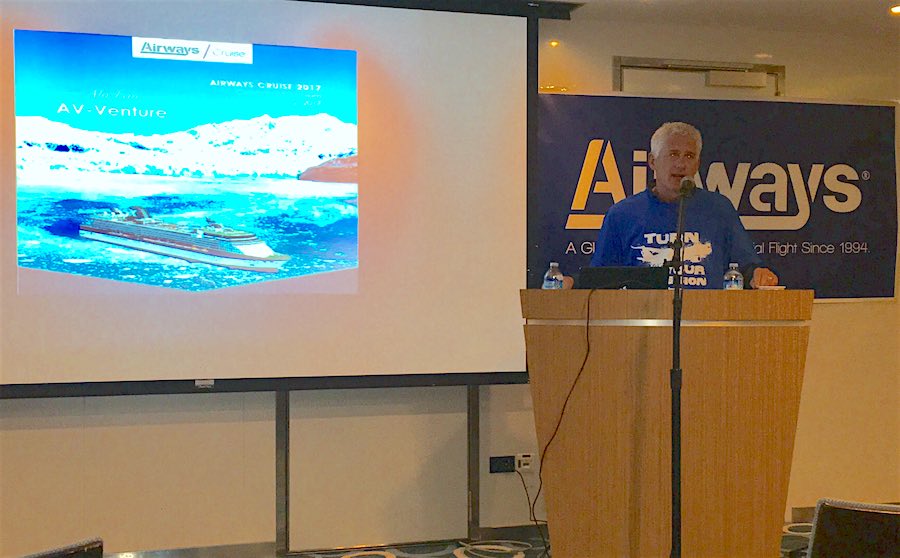 As I told the good Captain after his presentation, I've flown the bush, and I've flown airliners. But, unlike him, I've never flown airliners in the bush!
Icy Strait
Scorching Hot Planes & Icy Airways Adventures!
Next up: Icy Strait, near the town of Hoonah. Just across the Lynn Canal from Juneau, Hoonah figures prominently in The Last Bush Pilots. 
True to its reputation, Alaska went from severe clear skies, to this: 200′ visibility in fog!
Fortunately, by the time we hit port, the fog had burned off to leave us yet another lovely day.
Two words best describe Icy Strait: Fishing and wildlife!
While my good buddy JR and I went halibut fishing, many went on sightseeing cruises in hopes of catching some whales, among other wildlife. Their tours turned out to be for naught, however, as several pods of whales, both Orca and Humpback, cruised right by our ship!
Other wildlife abounds as well, from bald eagles to dolphins to seals and sea lions!
ARRIVING SHOT
By the way, about that "scorching" airplane photo on the cover of this blog . . .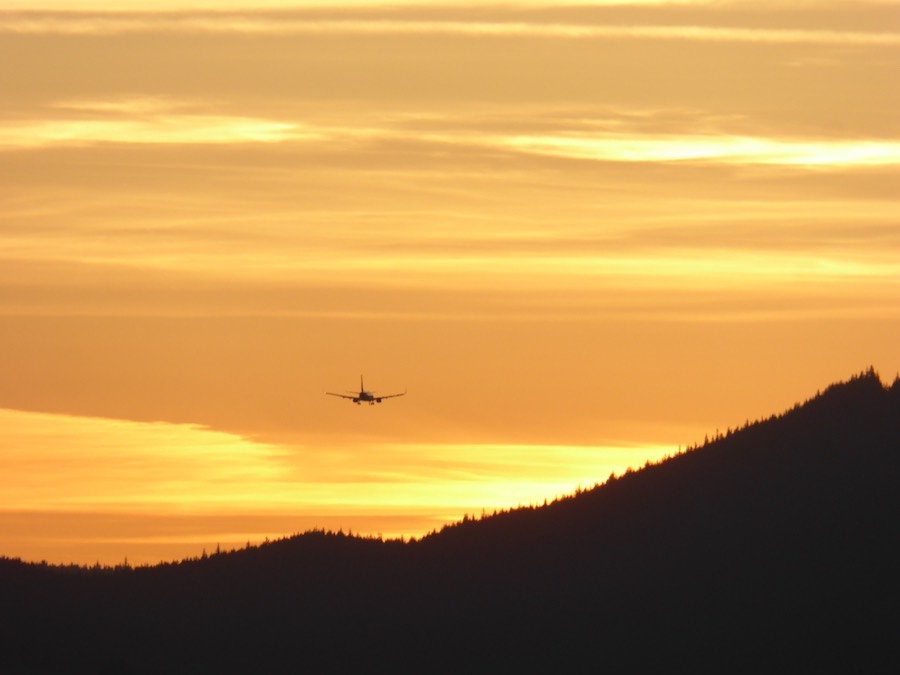 That's actually an Alaska Airlines B-737 landing in Juneau, AK at sunset, taken by Blog Buddy JR!
Finally, we leave you with this short excerpt from my Alaska talk. Enjoy!
Next week, we'll chat about our visits to my old stomping grounds in Juneau and Skagway, where I visited a glacier, got (a little too) up close and personal with a black bear, and took a nostalgic "flightseeing" tour over the Juneau Icefield.
Till then, . . . 
This is Cap'n Aux . . . 
Signing Off!
—  —  —  —
CLEARED TO LAND
Airways Alaska Cruise—Part 3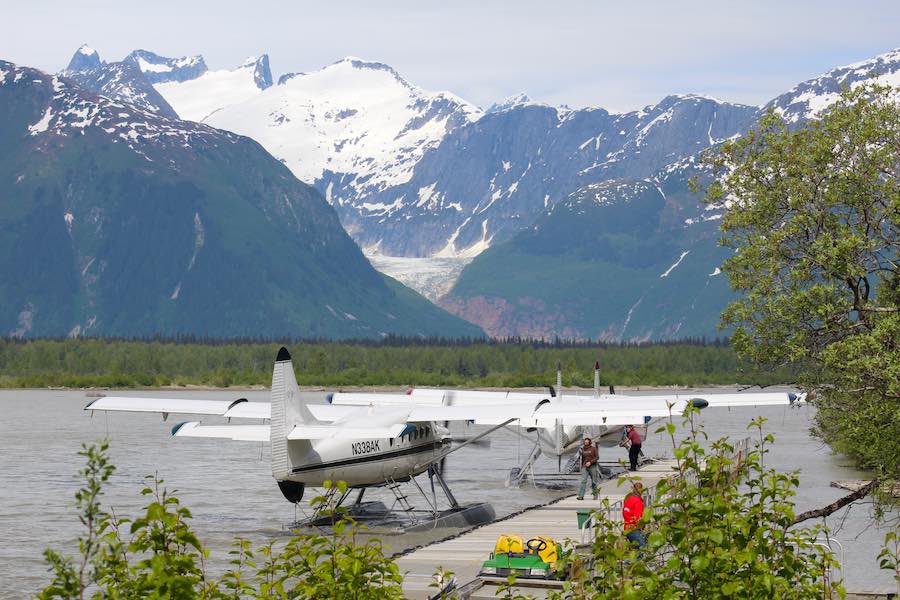 Our Final Adventure on the Spectacular Seas and Skies of Alaska!
—  —  —  —
ON APPROACH
Flight Aboard a Legend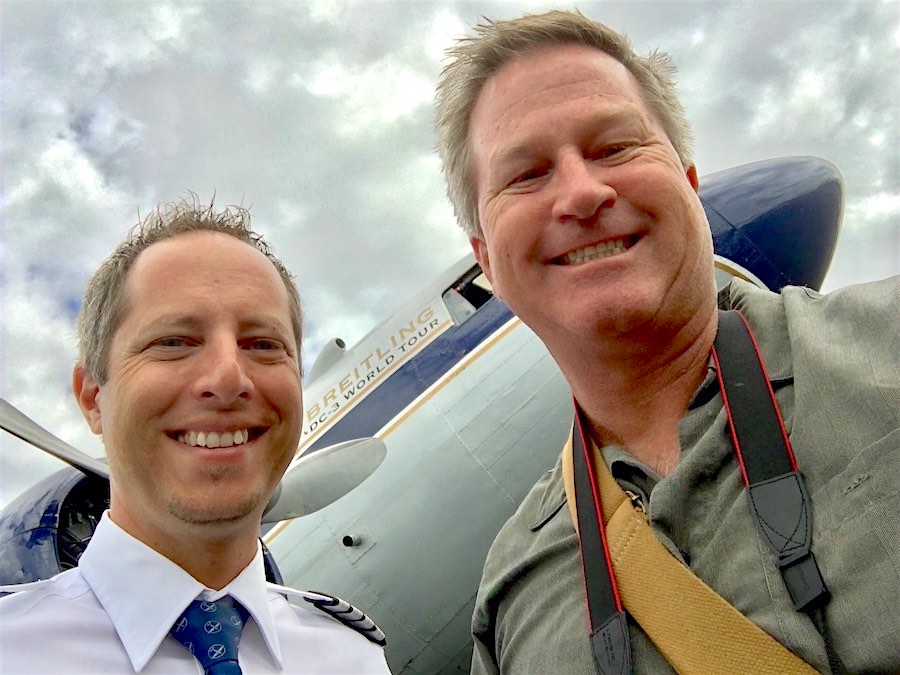 Jumpseating on Breitling's DC-3 Around the World Adventure!
—  —  —  —
Related Cap'n Aux Links