A Song of Icebergs and Fire! (Airways Alaska Cruise Part 3)
Folks from the flight deck, let's continue with our Ice and Fire theme. But, how about we ditch the sweltering Fire stuff, which continues to permeate the countryside (or at least we here in PHX!) and just think, Ice!
Or, more specifically, icebergs!
Which we found aplenty on our Airways Magazine Alaska cruise earlier this month. Check this out!
Oh, that photo just chills my toasty heart to a blessed something-below-zero!
But, I'm getting ahead of myself. We hit Hubbard glacier on the last day of our cruise, as Celebrity Millennium cruised full speed ahead to dock at Seward to end our icy odyssey.
But First . . . 
A Song of Icebergs and Fire! (Airways Alaska Cruise Part 3)
Juneau and Taku Lodge
Backtrack a few days, when we hit JNU (Juneau, Alaska), my old stomping grounds.
  Spectacular weather continued to hold, as we swarmed downtown. More "flight seeing" tours ensued, as well as the highlight of the trip for me, a trip down memory lane, wherein I flew over the Juneau Icefield as a tourist—the very same flights I used to fly!
  I even upgraded to land for lunch at Taku Lodge, a remote hunting cabin going back to the 20's, across the Channel from Twin Glaciers.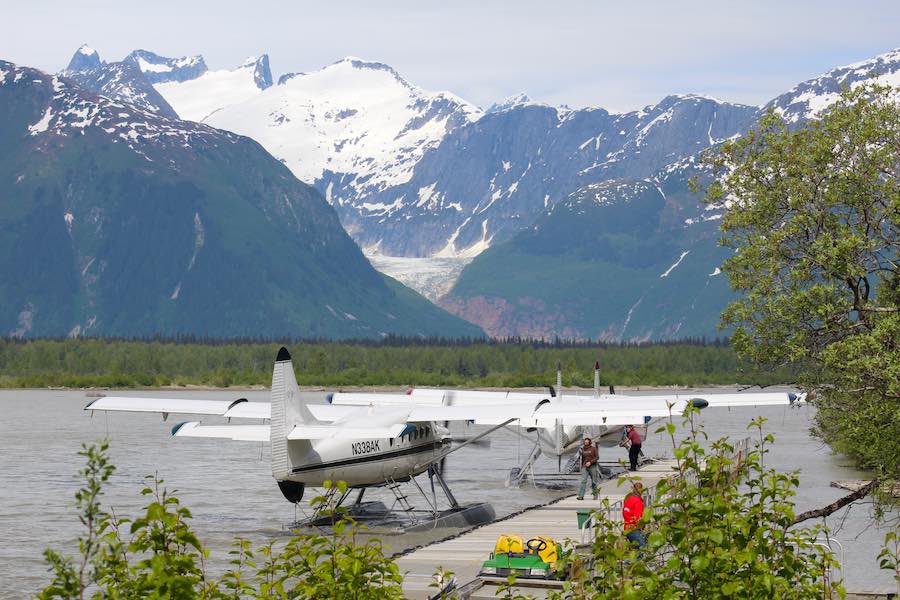 Travelers get treated to a freshly-caught salmon bake, nature hike, and, as we shall see, a very "up close and personal" experience with the local wildlife (read: black bears!)
  Speaking of which, no trip to Juneau would be complete without a requisite visit to the Red Dog Saloon, the very locale for "Drunk Pilot Night" in my novel, The Last Bush Pilots!
  Several Airways cruisers joined me at the Red Dog for some grub, libations and a few tall tales.  All too soon, it was time to move on.
Bonus Video: Juneau by Air!
Join me in the skies (etc.) for this quickie view of Southeast Alaska!
Skagway & the Klondike Highway
A Song of Icebergs and Fire! (Airways Alaska Cruise Part 3)
It's hard to find a town more "Alaska-y" than Skagway, gateway to the "Klondike Highway" for the '49ers.
  A frontier town sandwiched in a box canyon, with a short landing strip just a block off Main Street, it was also a favorite, and quite challenging, destination for me back in The Day.
  The approach is so unique, I included a scene in The Last Bush Pilots of main character, young bush pilot DC, landing here.
  The bush pilot has to squeeze by the nearby cliff in a tight, modified downwind leg, not quite paralleling the strip, then cut the approach short due to the looming box canyon.
  They would then swoop down in a steep diving turn, to roll out and touch down quickly on the short strip.
  Always a challenge, but always fun!
  The one Must-Do in Skagway is the train ride up the pass which goldrushers either hiked or, later, trained to the top of the pass. There, they crossed the border into Canada. But, the Mounties would not let anyone enter without at least a ton (2,000 pounds) of provisions per person for the harrowing, several-hundred-mile journey to the gold fields. So, the poor gold rushers had the Sisyphean task of schlepping load after 50 pound load, up the mountain on their backs. If shy of the 2,000 mark by a mere 1 pound, they were sent back downhill for more supplies!
Aviation on the High Seas
A Song of Icebergs and Fire! (Airways Alaska Cruise Part 3)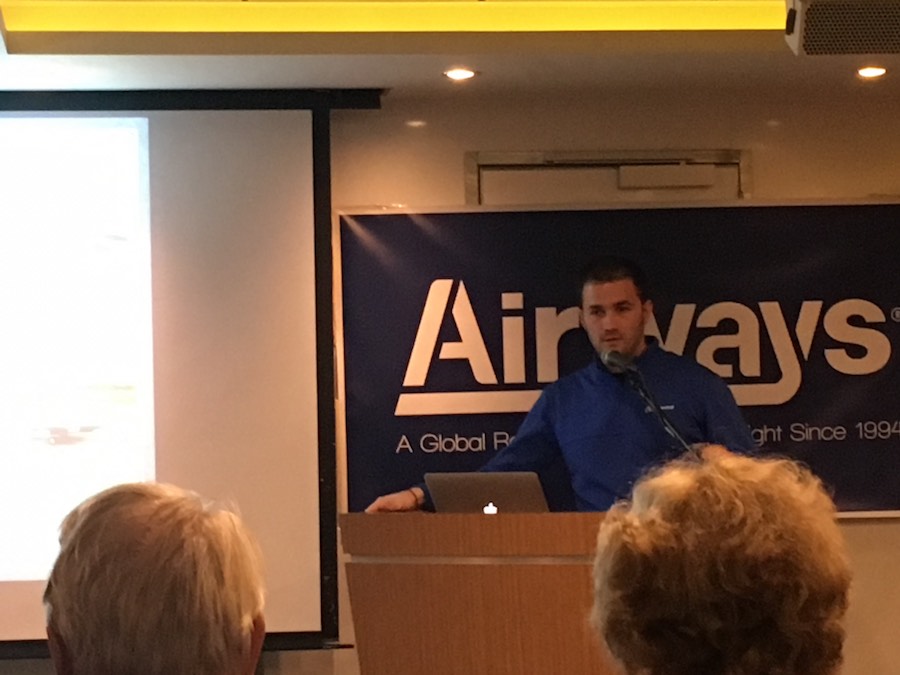 Our final day was spent at sea, but not without some serious aviation-related adventures.
Airways cruisers were treated to two more guest speakers, Editor Enrique Perrella—who regaled us with tales of his recent flying odyssey in—get this!—North Korea!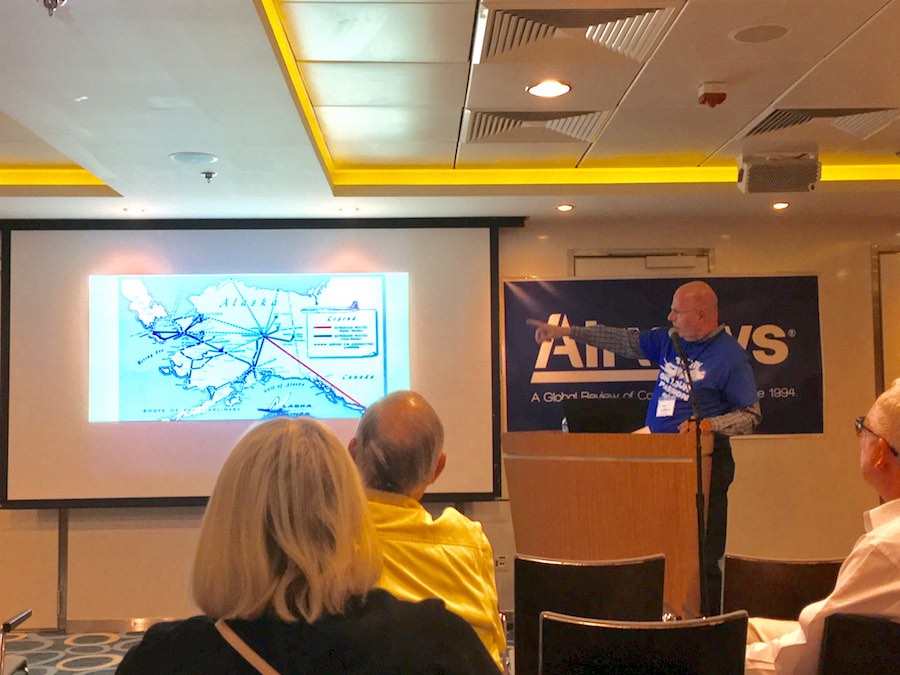 The Antanov plane flights looked like an awfully fun adventure, but his scowling security guard handler, and the "cuisine" he was forced to eat—including the "national dish" of Dog—eh, not so much!
  Next came Airways Historian David H. Stringer, who gave a great presentation covering Alaska's many airlines of the past and present. Thanks, guys, for riveting presentations!
Hubbard Glacier
A Song of Icebergs and Fire! (Airways Alaska Cruise Part 3)
I'll just shut up for a moment and post these incredible pics of our up close view of Hubbard Glacier—still a whole 2 miles away from our ship—along with a couple other "glacial" shots!

Captain's Bridge Tour and Port Seward
A Song of Icebergs and Fire! (Airways Alaska Cruise Part 3)
Airways cruisers were treated to a very rare and special tour of both the Captain's bridge, as well as the ship's engine control room!

All Good Things
A Song of Icebergs and Fire! (Airways Alaska Cruise Part 3)
And, finally, our Alaska adventure came to an end.
Docking in Seward, most of our cruisers took the train to ANC (Anchorage) for their flights home.
  I was treated to a private coach tour of the area by my brother Allen and wife Mari, both residents of Kenai.
Bonus: Lunch with Blog Buddy Mark S in ANC!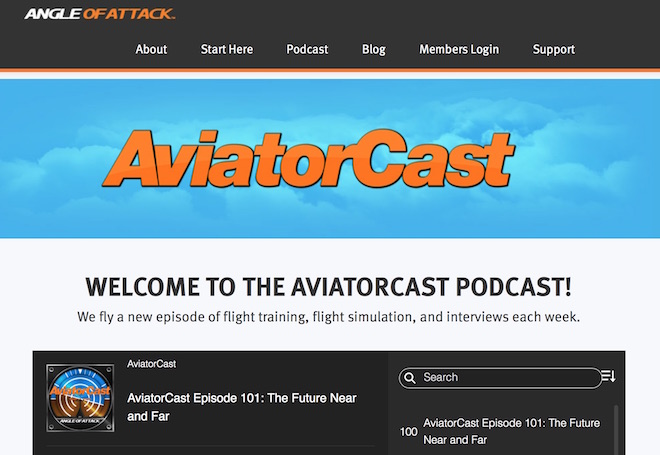 One final adventure I was hoping to take, was with Blog Buddy Chris Palmer, of AOA Media. Chris is famous for his Aviator Podcasts (on which I've been a guest a couple times), as well as his crazy-popular live Periscope broadcasts from the cockpit of his Alaska bush plane.
  Well, Chris and I had schemed to do exactly that—a live Periscope together, but alas, he had to pick up a plane outta town and wasn't available.
  Even so, I'd like to give him a shout-out!
I did, however, managed to squeeze in one last plane spotting adventure at ANC, and its seaplane base counterpart, Lake Hood. And then, it was time to wing on south to the Lower 48…
This is Cap'n Aux . . . .
Floating Off!
—  —  —  —
CLEARED TO LAND
Flight Aboard a Legend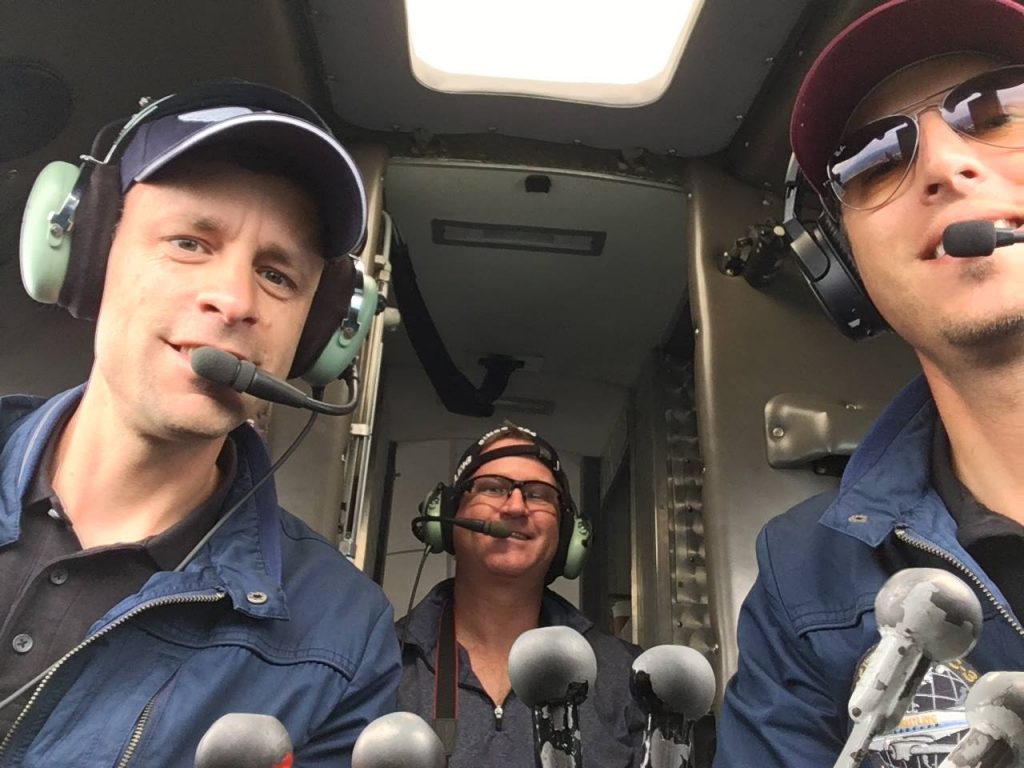 Jumpseating on Breitling's DC-3 Around the World Adventure!
—  —  —  —
FINAL APPROACH
Oshkosh Odyssey, 2017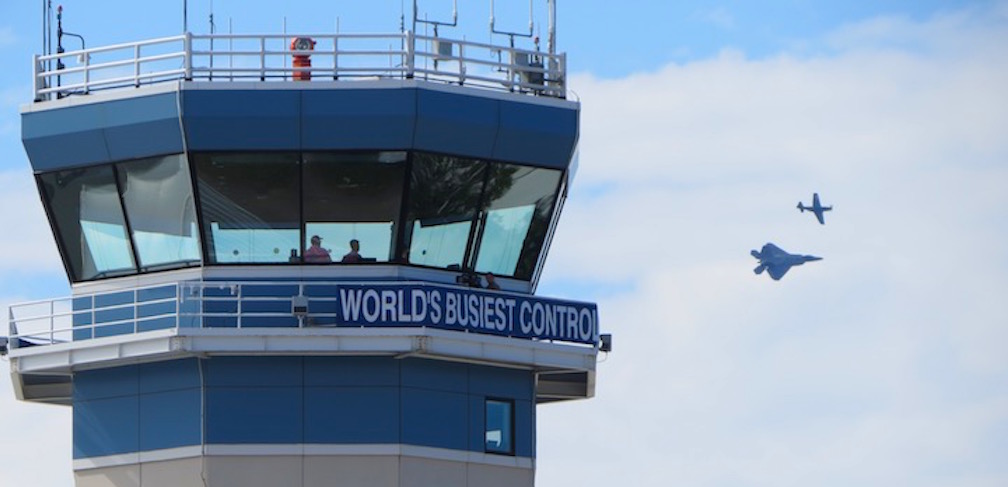 A Celebration of the World's Largest Airshow!
—  —  —  —
Related Cap'n Aux Links