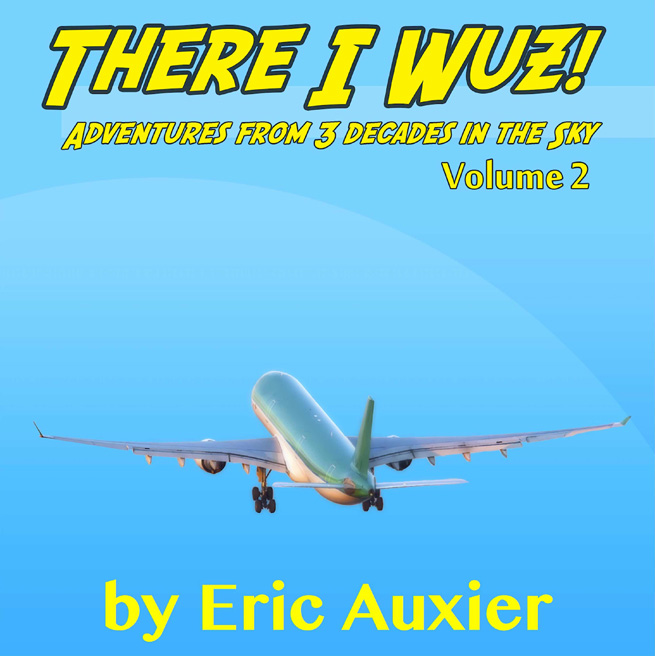 There I Wuz! V. 2—Audio Extras
Those of you enjoying Cap'n Aux's books on audio via Audible.com, Amazon, and Apple iTunes., here's some extra goodies for you!
THERE I WUZ!
ADVENTURES FROM 3 DECADES IN THE SKY
VOLUME 2
AUDIO EXTRAS
Introduction—by Mark Berry
Preface—by the Author
Bonus Section: Video Extras
________
FOREWORD by Mark L. Berry
MD-80 Captain, Author, Blogger, Audiobook Creator
The procedures commercial pilots follow are often written with the blood of our predecessors, mentors, and peers.
The procedures commercial pilots follow are often written with the blood of our predecessors, mentors, and peers.
Even with thousands of hours logged in numerous aircraft types, we as commercial pilots learn something new every time we fly. In fact, that's a primary goal of professional pilots everywhere—continue to learn and evolve. We never know when some tidbit of information is going to become useful in an emergency or abnormal situation—so we study manuals, fly simulators, and attend annual recurrent training. But the best lessons happen unexpectedly.
Because the price for failure in an airplane is so high, that's what we do—we strive to learn from our own mistakes, and those who have flown before us. Sometimes pilot error is tragic, and other times we escape with only our egos damaged. Those tales that tarnish our self-perception while polishing our humility are the ones that potentially grow into legends.
And here's a collection of just those sort of stories that make even hardened aviators crack a smile and admit we are human.
Author and Captain Eric Auxier is not just a pilot, he is a true aviation advocate. He not only flies for his own satisfaction, he is dedicated to making our seemingly secret society—that's hidden behind bulletproof cockpit doors—less of a mystery to aviation enthusiasts.
I hope you will enjoy these insights into a world where excellence is revered, but we acknowledge that perfection can never be obtained.
Cheers,
Mark L. Berry
Mark's an airline pilot with an MFA from Fairfield University, author of a memoir 13,760 Feet—My Personal Hole in the Sky (with 41 companion songs) and two novels Pushing Leaves Towards the Sun and Street Justice, contributing editor for Airways magazine, and former managing editor for Mason's Road literary journal.
His work has also appeared in 4'33", Aerospace Testing Int'l, AOPA Flight Training, BMW Owners News, Connecticut newspapers, Epiphany, ERAU EaglesNEST, Graze, LIFT, MilSpeak Memo, Now What? The Creative Writer's Guide to Success, After the MFA, Port Cities Review, Rogue, So…Stories of Life, The Stoneslide Corrective, The Story Shack, TARPA Topics, Under the Sun, and Write This.
His memoir was recently released as a full-length audiobook on Audible.com
PREFACE
Welcome Aboard!
Ladies and gentlemen, from the Flight Deck, this is Cap'n Aux speaking. Welcome aboard Volume II of There I Wuz!
I hope you enjoyed Volume I, but if you haven't caught it, don't worry. Each book in this series stands alone—as does each story in this book—with its own tales of aviation adventure, humor, heartache and fun. Feel free to read them in any order you like.
Many of the stories you read here have appeared in one form or another on my Adventures of Cap'n Aux blog (capnaux.com), or in various magazines such as Airways Magazine, AirwaysNews.com, Plane & Pilot, AOPA Pilot, NYCAviation.com and the like. But never before have they appeared together in an anthology.
Moreover, inside you will find guest posts from other noted pilot-authors, such as international A330 pilot and CNN correspondent Karlene Petitt, Gulfstream pilot and aerobatic champion Ron Rapp, as well as CRM expert, Lear 45 pilot and all-around fun guy, Jean Denis Marcellin.
One writer I am particularly honored to have aboard Volume II is Tawni Waters, author of the award-winning bestseller, Beauty of the Broken, which continues to garner awards, accolades and praises—including one of the world's most prestigious literary prizes, the International Literacy Association Award for Young Adult Literature.
While not a pilot, Ms. Waters writes—quite hysterically—about the time she navigated Mexico using only her . . . breasts. OK, 'nuff said—you just gotta read it! Note to concerned parents: all stories in this book series are rated no worse than a very mild PG.
I have also listened to your feedback from Volume I, calling for more, and longer, tales. In addition, you'll also find stories behind the stories, and as many photos as I can cram in. Except where otherwise noted, every story in this work is true, and represents what is, for me, a literal lifetime of adventures in the sky.
Whether you are a seasoned warrior of the sky, fledgeling pilot about to embark on your own lifetime of adventures, or a "chairborne" avgeek, I invite you to sit back, relax (well, as best you can, some of these stories are pretty hairy) and enjoy the ride!
Happy Adventures!
Eric Auxier, April 23, 2015
BONUS SECTION: VIDEOS!
Here's a whole bunch of cool videos, and the stories of the "making of" as well.
And don't miss my new "Word on the Ramp" series!
Black Swan Event: the Captain De Crespigny Story
On 04 November, 2010, Qantas Flight 32, an Airbus A380, suffered a "Black Swan Event" when the #2 engine exploded, sending shrapnel through the wing and damaging all but 1 system. For 2 grueling hours, Captain Richard De Crespigny and his crew wrestled the behemoth out of the sky and safely…
Direct Link: vimeo.com/capnaux/rdc
———
Cap'n Dillon's Ecstatic Adventure
If you don't know Cap'n Dillon, you're about to fall in love. Our most beloved video from 2014!
Direct Link: vimeo.com/capnaux/dillon
———
Cap'n Dillon's (Un)Bogus Journey
Had enough of Cap'n Dillon? Thought not! More thrills with our pilot-rock star.
Warning: tissues required!
Direct Link: vimeo.com/capnaux/dillonsjourney
———
Jessica Cox, the World's Only Licensed Pilot with No Arms
Speaking of pilot-rock stars, an interview with my greatest aviation hero, the world's only armless pilot, Jessica Cox! visit rightfooted.com to learn more about this amazing young woman!
Direct Link: vimeo.com/capnaux/jessica
———
Jihadi
Hijacking
Mission 3 of my Spy/Fly Thriller series, Code Name: Dodger!
When their A321 is hijacked by armed terrorists, it's up to Justin and Bob to take it back. But that's only half the problem: who's going to fly the plane? Every passenger's nightmare—and every simulator pilot's fantasy!
Direct Link: https://vimeo.com/capnaux/cnd3
———
Cartel
Kidnapping
Mission 2 of my Spy/Fly Thriller series, Code Name: Dodger!
Mission 2: Cartel Kidnapping.
A Young Adult spy thriller, with gobs of flying! …So, sit down, strap in, shut up and HANG ON!
Direct Link: https://vimeo.com/109425971
———
Word on the Ramp!
My new "Avgeek Video Magazine" series, a periodic roundup of all cool things aviation! 
Here's a recent sample, our Special Star Wars Day (May the 4th) Edition. Check out the entire WotR series on my vimeo page or via capnaux.com! In this issue: Qantas, KLM, Star Wars 7, Harrison Ford's crash, Solar Impulse, Air Force 1, Charles Lindbergh, St. Maartin's famous Maho Beach landing–this time viewed from the cockpit–and more! Edition 15-4
Direct Link: vimeo.com/126052616
———
Interview with the Stars of TV's "Airplane Repo!"
"I swipe airplanes for a living!"
Live from Oshkosh 2014, Cap'n Aux and NYCAviation.com Interview the daring, intense stars of
Discovery's hit TV series, "Airplane Repo."
Direct Link: vimeo.com/103186050
———
LINKS to All Things Cap'n Aux
Facebook: facebook.com/CapnAux
Twitter: twitter.com/capnaux
Instagram: instagram.com/capnaux
Vimeo Page: vimeo.com/capnaux
Other Links
Stories on AirwaysNews: airwaysnews.com/blog/?s=auxier
Stories on NYCAviation: nycaviation.com/author/eauxier/
Contact the Author
Email: eric@capnaux.com