The once-blue sky has turned slate grey, the green grass has been soaked and churned into brown mud, and the pretty birds have all flown away.
Oshkosh 2014 is over.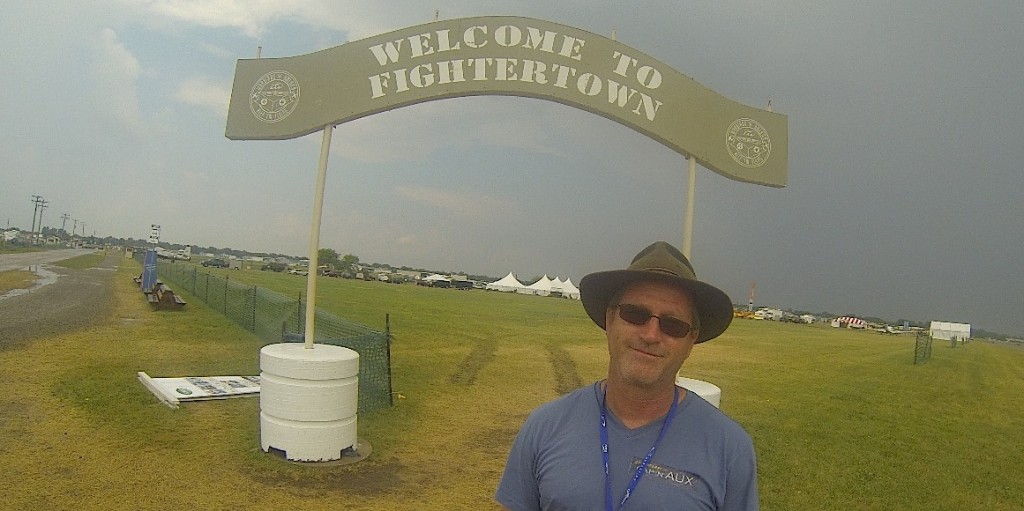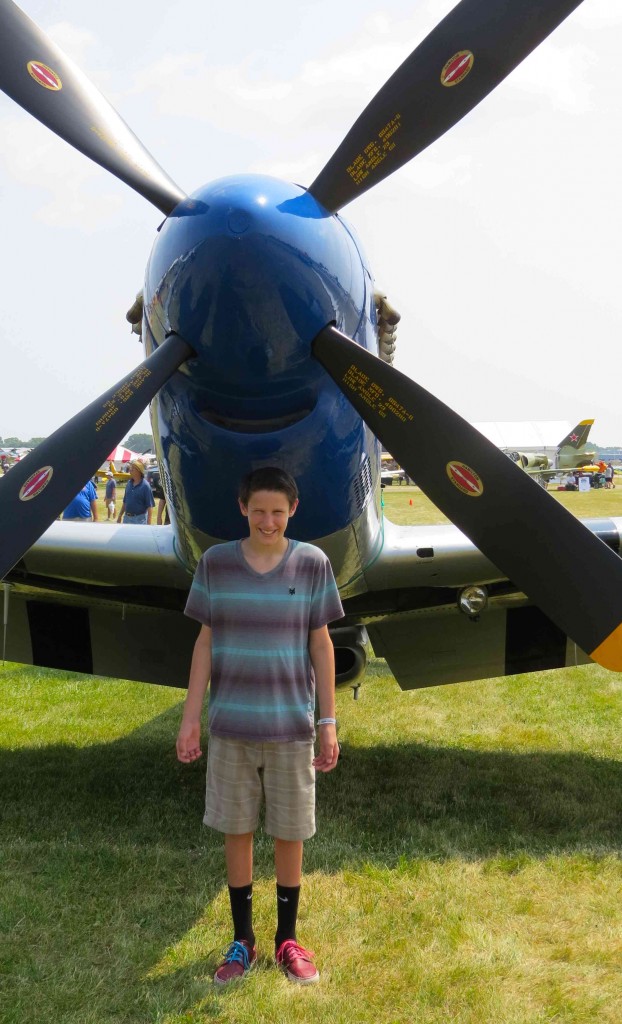 The magnificent P-51 Mustang flight line, my personal sanctuary to which I made a daily pilgrimage all week, has been reduced to a field of mud.
The only evidence of the stately Mustangs' visit are tire tracks, running 3 abreast, to the runway . . .
Ancient dinosaur prints, soon to be lost to time and the elements.
So sad to leave this hallowed epicenter of aviation, but all good things must come to an end.
For us here on the blog, however, things are just heating up. I've got a ton of aviation fun to share with you, mostly via fantastic video footage and interviews I've been able to grab all week. But I thought I could do at least one last "quickie" post from Oshkosh, before I get down to some serious video editing.
You'll be seeing vids on:
"How I Spent My Oshkosh Vacation"
An interview with the intense cast of Discovery Channel's Airplane Repo, premiering Season 2 this August 22
The Fairey Gannet (with NYCAviation.com)
More surprises—yep, I got lots of stuff!
THE TRUE SPIRIT OF OSHKOSH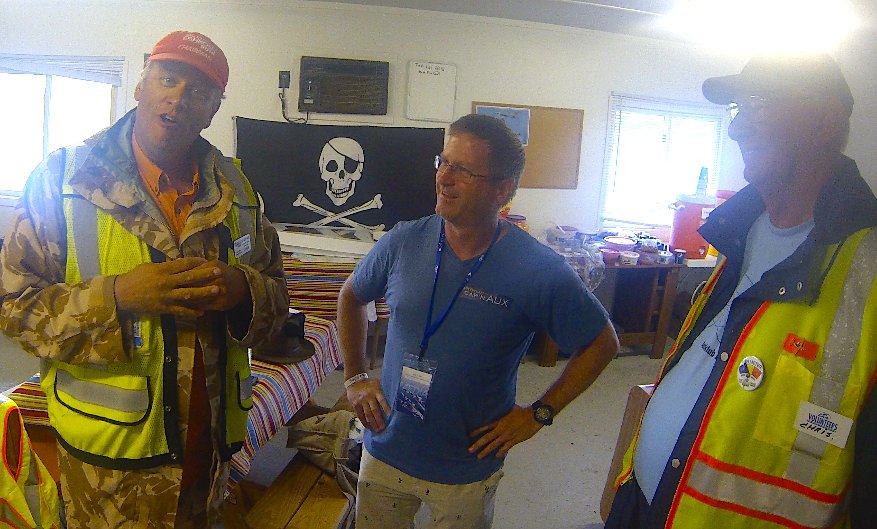 Taking refuge from the rain in a shelter set up for volunteers, we happened to meet Chris and Gert, two traffic directors, who'd flown all the way from the Netherlands just to volunteer. As the rain pummeled the field, Gert regaled us with tales from 25 years of playing traffic cop for everything from Cessnas to warbird bombers to jet fighters.
Once again, the magic of Oshkosh had turned bad luck into a chance to glimpse yet another corner of aviation: that of the unsung heroes who are the volunteers of Oshkosh.
Thank you, Gert and Chris and ALL of you who volunteer your precious time to work behind the scenes to make this aviation Disneyland run like clockwork! By the way, Gert sent me a pic of his campsite: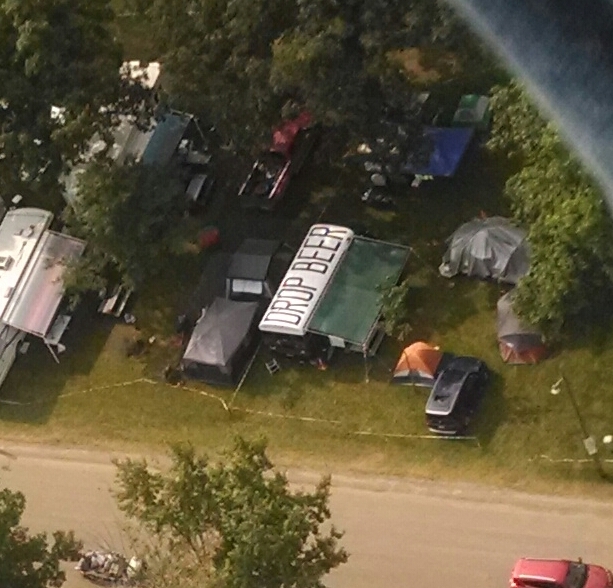 MORE SPIRIT
This photo represents what Oshkosh is all about: two generations of pilots, coming together to share a common love for aviation.
CAPTION CONTEST!
We had a little fun with the photo above on Cap'n Aux Facebook Page and Twitter, by having an informal Caption Contest.
Here's a sampling:
—"Have you seen my 747? I swear I parked it around here somewhere."
—My plane has 2 stories and 3 ex wives ….. And you ?
—"So… What did YOU get on your private pilot written?"
—"I like your hat." "I like yours too."
—"Is this the line for free coffee?"
—"I always wanted to be a pilot for a big airline."
—"So, is the check-in in that building over there?" "No … the check-in is here. With me. You don't fly until *I* say you fly!"
—"Are you the co-pilot?"
—"You seriously think you can fly a P-51 at your age?"
 . . . And my personal favorite, from @LothropLothrop (of FlyMainBlog):
—"Cap'n who? No, I'm sorry son, I haven't read your book."
I'd send him a signed copy of There I Wuz! . . . but he's already read it!
And with the Close of a Chapter, Hope in Rebirth . . .
Trying to eek out one last dose of avgeek rush, we visited a gem of a warbird: the lovely "Marge," a P-38 Lightning. We approached her to find a very poignant scene: A single raindrop slowly trickled like a tear from her left eye.
The smiling Marge was crying.
She was reminding us that, Yes, all good things must come to an end. But her unfailing smile and bright eyes looked to a hopeful future, one that she had surely longed for back in war-torn 1944, in solid faith that something good was on the horizon.
And, with the turning of the years, Oshkosh '15 looms full of promises.
As I admired Marge's lovely lines, I happened to meet two sharp young men, still in their teens, Jimmy and Nathan.
Jimmy had a summer internship with EAA, and had learned volumes while serving as a tour guide in EAA's amazing museum.
My gloomy spirits lifted as Jimmy gleefully filled us in on Marge's storied history, filling me with hope of the next generation of aviation enthusiasts.
Like Marge, I felt like I was able to smile and look toward a beautiful future, even while shedding a tear for times gone by.
In closing, here's yet another  special something for our favorite Blog Buddy, Cap'n Dillon!
More wonderful Osh stuff soon to come. Until then . . .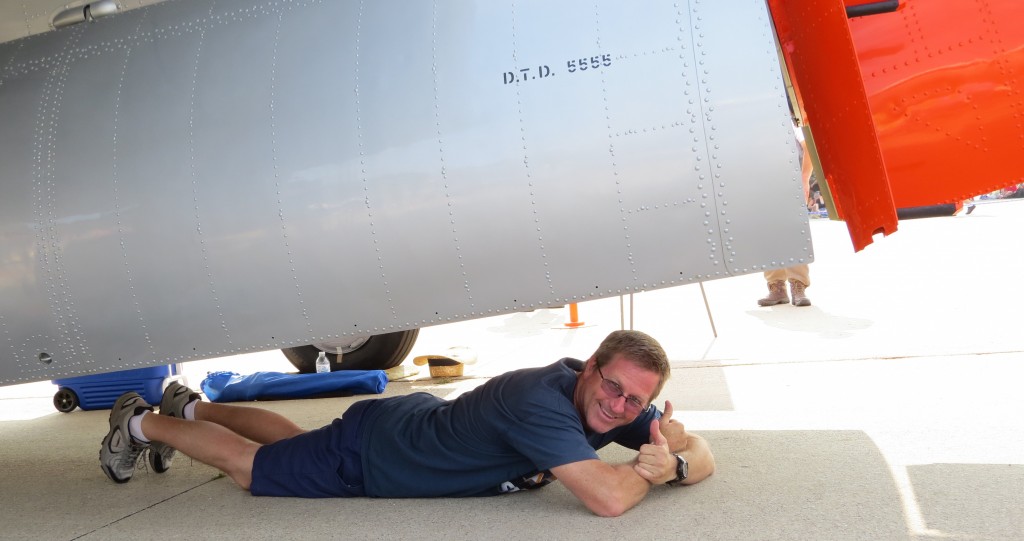 This is Cap'n Aux . . . signing off!