#TIW4—Celebrating People Celebrating Passengers!
This post is dedicated to the families, loved ones and victims of the Las Vegas Route 91 Harvest Festival shooting.
One act of cowardly violence, thousands of acts of compassionate heroism.
Love

ALWAYS conquers evil.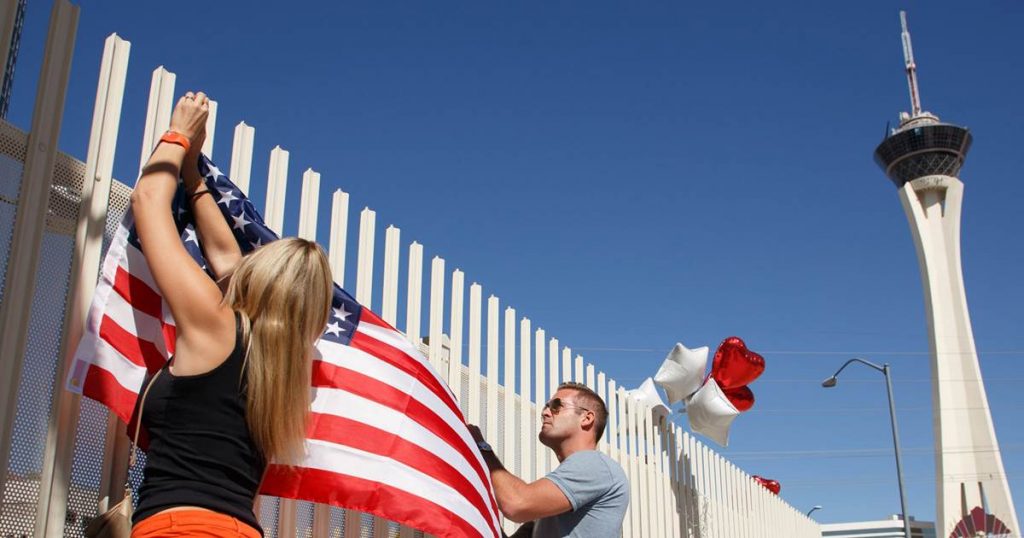 Folks, from the flight deck, it's been a tough week, with the sad events unfolding in Las Vegas. It is a sobering reminder that life is precious, and can be taken at any moment by a random accident, or an act of cowardly violence. Cherish life. Live it full. Love those around you as if each moment was your last.
If you haven't yet, and can, please help by donating blood. Or, if  you're not in the area, give blood in their name. And, let us all endeavor to forget the name of the perp, erase it from history and memory, and let us remember and celebrate the lives of those lost.
#TIW4—Celebrating People Celebrating Passengers!
This is my second post about the upcoming release of There I Wuz! Volume 4, which celebrates People. So, with that in mind, and in light of this weeks tragic events, I'd like to start on an uplifting note—to celebrate life, to celebrate people, to celebrate the beautiful packages of love that are inside each of us!
#TIW4—Celebrating People Celebrating Passengers!
My New Friend Kensley
This week, Bunny and I were graced with a surprise visit from someone who became our new best friend—Kensley! A bundle of energy, she insisted on being a part of whatever we were doing, whether it be working out, stretching, or dancing while I played the banjo on the back porch! Just check out these pics, and let her charm bring a smile to your face!
A Little Morning Stretching with Kensley
A Little Banjo Pickin' with Kensley
Twinkle, Twinkle Little Kensley!
WARNING: The Next Video will send the Cuteness Factor through the Roof!
Needless to say, a good time was had by all! Kensley, your visit made our day, and you're welcome at Aux HQ any time!
#TIW4—Celebrating People Celebrating Passengers!
Very Special Passengers
On the cover of our post this week are three very enthusiastic frequent flyers. They all came up front to have us sign their personal flight logbooks, which were already pretty darn full of previous flights! May I present to you (L-R):
Aldrich, Silas and Eleni!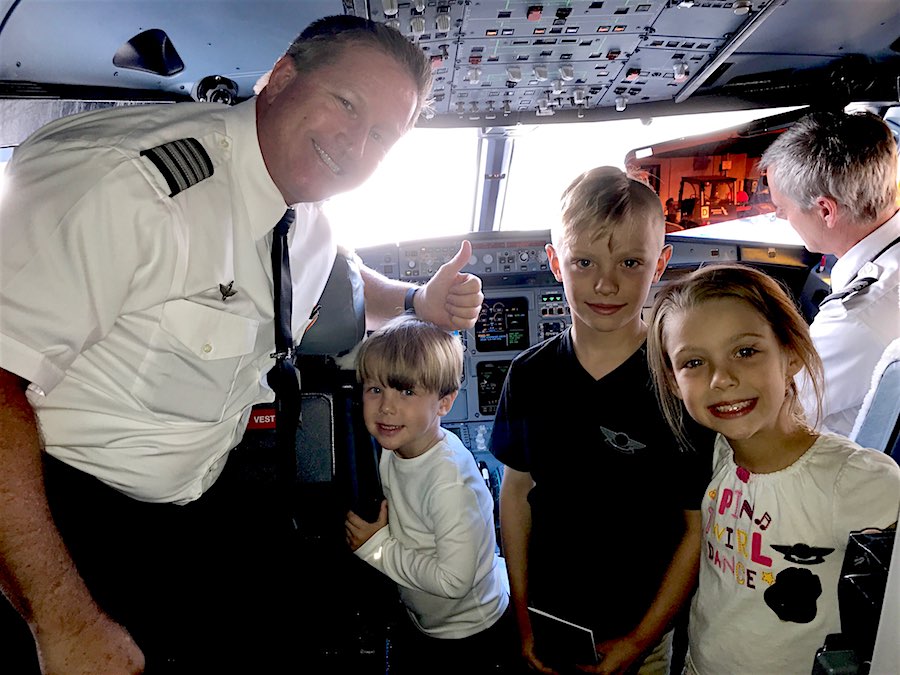 #TIW4—Celebrating People Celebrating Passengers!
Is Your Pilot Smarter Than a First Grader?
Next up, here's one of the cutest videos you'll ever see, submitted by a Blog Buddy, of a very, very smart young pilot-to-be!
While the video cuts out as someone asks him what he wants to be when he grows up, I swear it sounds like he is starting to say, "Captain!"
First Class Kids!
#TIW4—Celebrating People Celebrating Passengers!
And, recently, I had the privilege of flying this fine young gent across the country.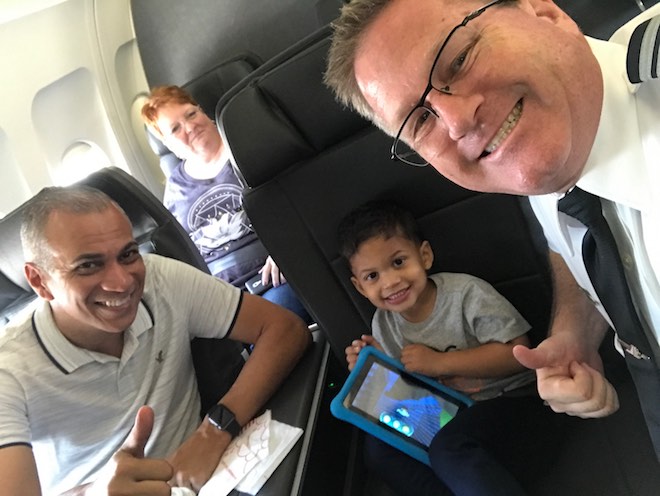 Our lead flight attendant reported that he was better behaved than many of our First Class passengers!
#TIW4—Celebrating People Celebrating Passengers!
Zee and Jerrold
Speaking of Flight Attendants, Miss Zee recently flew with us, and I was excited to find out that her 14-year-old son Jerrold was interested in flying, and had even taken his first couple of lessons! Well, always hoping to inspire our "Next Gen" of aviators, I gave Zee a couple of books from the arsenal, including Code Name: Dodger—Jihadi Hijacking (which takes place on a hijacked A321!) as well as Volume 1 of There I Wuz!
Jerrold, I wish you the best of luck in pursuing your airborne passions!

#TIW4—Celebrating People Celebrating Passengers!
And
,

now we get to today's post!

We continue with the theme of Volume 4—The People, in . . .
Section 5—A Pilot's Life For Me
We'll explore life as an aviator—Past, Present, and especially the Future, as it looks for our up n' comers, such as Jerrold. In stories like Confessions of a Former Airline Pilot, and Secrets of an Airline Freight Dog,we'll explore several pilots' careers, how they "paid their dues," and, most importantly, where we're going as an industry.
To better assess the future of aviation, I thought I'd go to the source: a future aviator himself.
His name is
Swayne Martin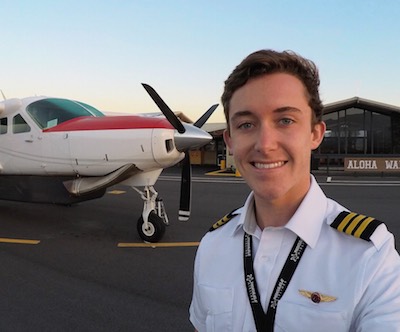 Aviation's Future, From an Up 'n Comer
A previously unpublished piece
From the outset, Swayne Martin has stood out. At age 15, he sent me a meme that he had made with a quote from my novel, The Last Bush Pilots. It brought tears to my eyes.
Shortly thereafter, Swayne started flight lessons—and began writing his own blog, chronicling the adventure. It quickly took off, inspiring those of his own generation.
Not long after, Swayne was personally invited to become the third member of the boldmethod.com team—an innovative, cutting edge, multimedia flight instruction website that quickly skyrocketed to become one of the most popular aviation blogs on the internet. And, rightly so.
Today, Swayne is starting his final year at the University of North Dakota, a prominent aeronautical school, and is on track to graduate a year early. Having quickly earned his flight ratings, this summer, he also began flying as a commercial pilot, with Mokulele Airlines in Hawaii. Talk about a summer internship!
Needless to say, Swayne is a remarkable young man, with a bright future ahead of him. But, again, just how bright? I asked him about his own view on the future, for not only himself, but his new generation of pilots, and the industry in general. His insight, as I suspected it would be, is quite keen!
#TIW4—Celebrating People Celebrating Passengers!
Other not to miss sections include:
Section 2—Lessons Learned—The Hard Way

This is the single section that is present all four Volumes, as this is the heart of our There I Wuz! series. And, this time, we explore one of the most famous aviation incidents of all: the fabled, Miracle on the Hudson. What are some lessons that we, as pilots, can take from this incredible event? And, just exactly how accurate was the Hollywood movie made of the event?
In Section 2, we'll also explore the future of automation in aviation. Namely, will robots soon be replacing our copilots . . . and, perhaps, even our pilots? Finally, we explore the tragedy of ValuJet Flight 592.
#TIW4—Celebrating People Celebrating Passengers!
Close on the heels of Lessons Learned is:
Section 3—1% Sheer Terror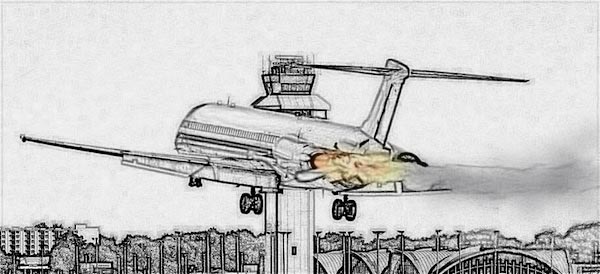 Haven't had enough There I Wuz! stories? Thought not! This section really puts you in the pilot's seat when the geese hit the fan blades!
Stories such as Captain Mark L. Berry's High Terrain All Quads, about an engine failure on takeoff out of Mexico City—at night, in the clouds! And, Checkride-itis, a sobering look at a pilot's checkride that doesn't go exactly as planned.
#TIW4—Celebrating People Celebrating Passengers!
There I Wuz! Volume 4—The People
Is slated for release November 5th, in both print and eBook. Soon, we'll be sharing a preorder link for the eBook version. Check back here next week!
And, if you'd like to catch up on the series (each volume is independent, and can be read in any order), here's links to each:
Till next week, 
This is Cap'n Aux . . .

Signing off!