#TIW4: Puerto Rico Hurricane Disaster Relief #Aviation-Style!
Heroes of the Hurricanes!
Folks,despite the political issues going on, I'm happy to report that I've been receiving myriad stories of great aviation folk like you, cutting through the government red tape with their props n' fan blades, and
GETTING RELIEF TO HURRICANE-STRICKEN PUERTO RICO!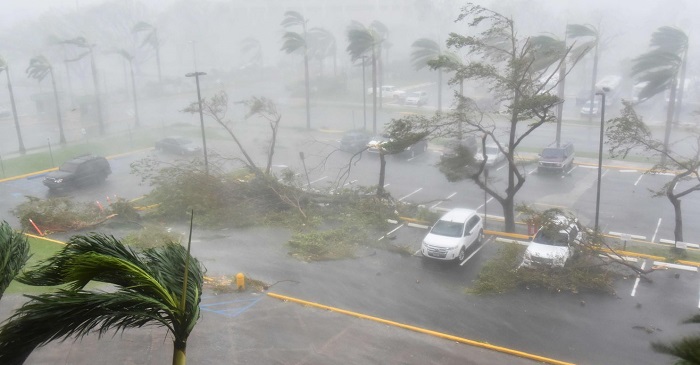 As hard as it is to hear of the devastation, let's not forget the good deeds and amazing heroics, by those on the ground and in the air, helping their fellow man to get back on their feet!
What's more, little did I know that, when I started writing There I Wuz Volume 4, publishing November 4th, that several of our writers in the book would become heroes during this horribly devastating hurricane season. From evacuating refugees to flying disaster relief flights, no less than three people featured in Volume 4 are involved in the efforts.
Here are their stories!
Now, that's the Spirit!
One of the operations is a grassroots effort, conceived and spearheaded by Airways Magazine Managing Editor Chris Sloan and Discovery's Lara Richardson. He was assisted by Airways own Editor Enrique Perrella, who wrote a fabulous Foreword to Volume 4!
Chris also contacted me in regards to their relief efforts, and I couldn't wait to post their heroic stories here for you!
Called Operation Puerto Rico Care-Lift, (using #AirwaysAid on social media)—in conjunction with Spirit Airlines, who has generously supplies flights—tons of desperately needed supplies, such as food, water, and generators, have been delivered. To date, they are into their 10th relief flight!
Here's some great pics, sent to me by Chris:
And and amazing video documenting the event:
But, as the video says, the effort has still been not enough!
WE NEED YOUR HELP!!!
HOW YOU CAN HELP:
1.
Donations

– Donate to Operation Puerto Rico Care-Lift's GoFundMe Page:
2.
Transportati

o

n

– Thanks to the heartfelt generosity of Spirit Airlines, the donations
g
e
n
e
r
a
t
e
d
b
y
O
p
e
r
a
t
i
o
n
P
u
e
r
t
o
R
i
co
C
a
r
e
–
L
i
f
t
a
r
e
m
a
ki
n
g
i
t
i
n
t
o
t
h
e
h
a
n
d
s
o
f
P
u
e
r
t
o
Rico's citizens, but
the effort is

seeking more transportation in the form of aircraft
a
n
d
s
h
i
p
p
i
n
g
,
a
s
t
h
e
g
e
n
e
r
o
s
i
t
y
i
n
d
o
n
a
t
i
o
n
s
a
n
d
p
a
y
l
o
a
d
h
a
s
su
r
p
a
sse
d
e
xp
e
ct
a
t
i
o
n
s
exponentially. The effort has teams of people on the ground in Aguadilla, San Juan, and
is working with Lufthansa Technik for distribution.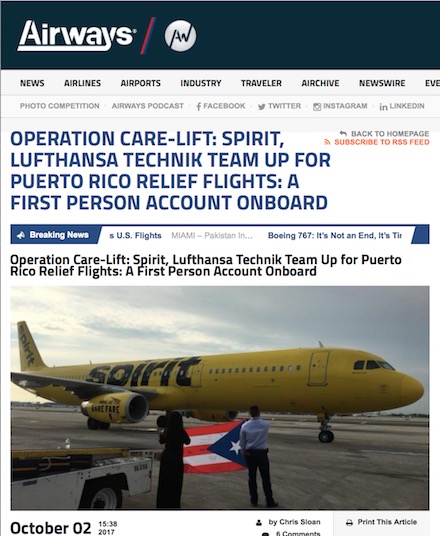 Here's Chris's story on AirwaysMag.com, documenting the heart-warming operation!
https://airwaysmag.com/avgeek/gracias-you-made-puerto-rico-care-lift-a-total-success/#respond
Here's an earlier article, with more info on how you can help!
https://airwaysmag.com/avgeek/the-airways-aid-to-puerto-rico/
Congratulations to all on a job well done!
#TIW4: Puerto Rico Hurricane Disaster Relief #Aviation-Style!
Airways Magazine wasn't the only aviation hero out there helping with the effort. Our own Blog Buddy, Captain Eric Walden, Owner of Little Hawk Logistics, personally flew several relief flights for FEMA to the Caribbean, including the U.S. Virgin Islands.
Having survived Hurricane Hugo in 1989 while flying out of St. Croix (see, Gone With the Hurricane! in There I Wuz! Vols. 1 & 2), I must say that I am personally grateful for his efforts!
#TIW4: Puerto Rico Hurricane Disaster Relief #Aviation-Style!
Captain Walden is also featured in the Section 1: The People, in There I Wuz Volume 4!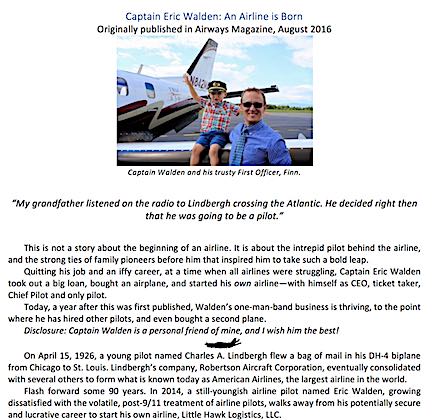 In his story, An Airline is Born, we learn how he ditched his potentially lucrative airline pilot career, took out a massive loan and started his own airline!
#TIW4: Puerto Rico Hurricane Disaster Relief #Aviation-Style!
Hurricane Harvey serves as the villain in another story from Volume 4, by The Renewed Pilot.
His story kicks off the Section called: Burden of Command. In his story, Evacuating Hurricane Harvey, The Renewed Pilot tells us the true tale of how his airline had him scheduled for the last flight out of IAH (Houston Int'l) before the hurricane hit. Then it canceled. Then it was reinstated. Then . . .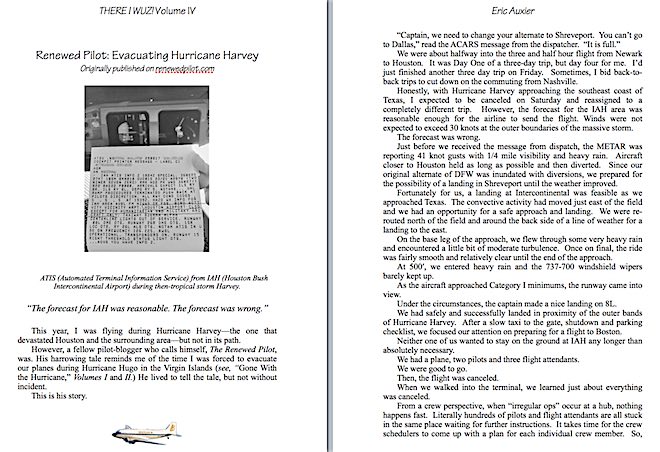 Friends, you won't have any fingernails left after this one!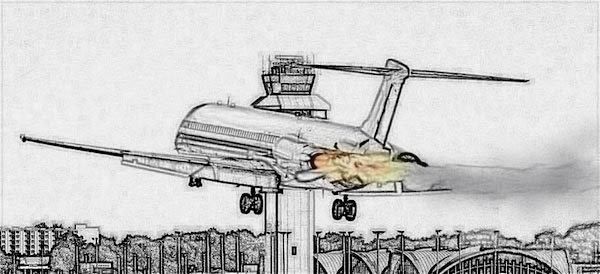 In High Terrain All Quads, another nail-biting story in our Burden of Command section, Captain Mark L. Berry relates a true tale of his engine failure over Mexico City—at night, on takeoff, in the clouds!
Captain Berry is familiar to readers as one of our Blogging In Formation team, as well as a contributor to Volume 1 of There I Wuz!
From the beginning, I've always wanted to share this harrowing tale with you!
#TIW4: Puerto Rico Hurricane Disaster Relief #Aviation-Style!
THERE I WUZ! VOLUME 4
It's Gonna be

EPIC

!!!
Publishes November 5, 2017!
in Print and eBook, with the Audiobook soon to follow!
Preorder link for the eBook version, also releasing November 5th, should be available by next week's post! So, stay tuned!
Till Then,
This is Cap'n Aux . . .

Signing Off!
Related Links and Articles