There I Wuz! Volume 4…
IT'S (ALMOST) HERE!
When's it out? When's it out? you ask . . .
Well, this summer was crazy-busy, and I missed my traditional deadline for Volume 4 of our wildly popular series,
There I Wuz! Adventures From 3 Decades in the Sky
But take heart! It's nearly completed, and will be more than worth the extra wait!
Volume 4 is the biggest, longest, mostest of them all!
No less than 11 pilot and guest writers will be adding their voice to the project, telling their own crazy, adrenaline-charged tales of laughs, loves, tears and fears in the skies!
"The engine is the heart of an airplane, but the pilot is its soul."Sir Walter Raleigh
The theme of There I Wuz! Volume 4…
The People
  We all marvel at the miracle of flight, and the amazing technical achievement of powered air travel. We gawk at the hammerhead stalls, thrill at the baritone pass of a P-51, and gush at the simple, sleek aluminum beauty of a DC-3. But, without the human pilot, all those pretty metal lines, Garmin electronic wonders and stratospheric JT8D power are nothing but inanimate objects lying dead and dormant on the tarmac.
Like Dr. Frankenstein, the pilot breathes life into the plane.
But, before the aviator ever sets foot aboard, he or she has traveled a long path to get there. A long, often fascinating, path. It is their stories that we shall celebrate in this volume. Their struggles, their achievements, their failures . . . their lives. For it is they who are the true stars of the air. And, each one has a fascinating story to tell.
Oh, don't worry, there's still plenty There I Wuz! tales to go around in this volume as well!
In the next few weeks, we'll discover some of the amazing personalities, and their stories, that we'll tell in Volume 4.
Personalities such as . . .
Steven Slater
Snowbound in SLC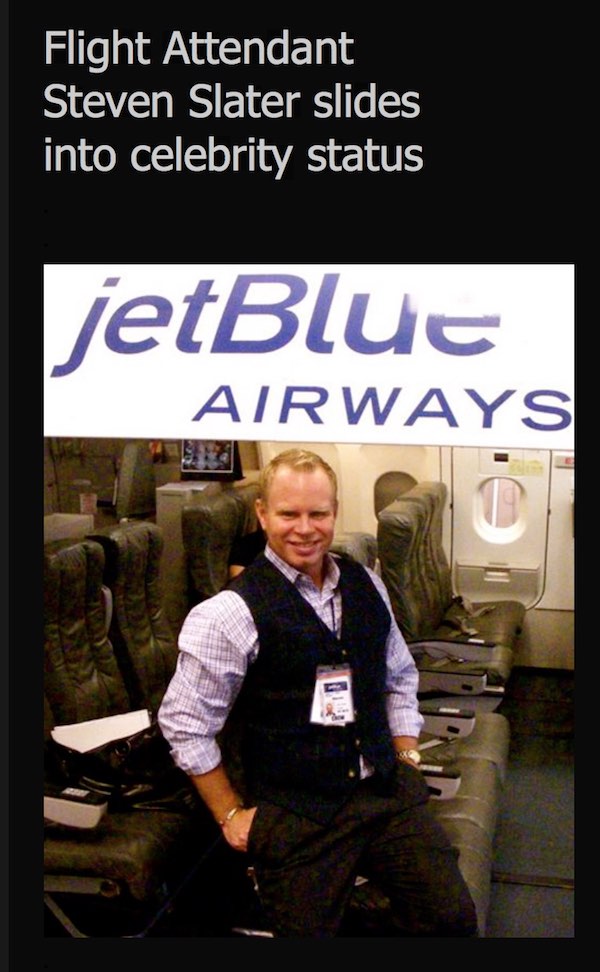 That name rings a bell, right? Here's a couple hints: JetBlue, a couple beers, a deployed slide, and an epic "Take this job and shove it" farewell exit!
Yep, Steven is the one and only Flight Attendant who literally slid into folk hero status when he'd had it up to here with unruly, rude passengers, and departed the pattern and his career at Mach speed!
Come on, admit it, we all loved him, and secretly wished we could have done something as dramatic, even while knowing that, in this biz, we must always use restraint.
Well, to that end, I had originally sought out Steven to hear "his side of the story," and we became online friends. To my delight, I found him to be a very witty, articulate, sensitive and insightful man, and the story he tells in Volume 4—of his life in the sky—will bring tears of joy to your eyes, as it does every time I read his piece, entitled, "Snowbound in SLC."
There I Wuz! Volume 4…
Another fascinating persona I am excited to introduce you to is . . .
Jules Tapper
Midnight Express
Jules Tapper is a man who could be the real-life, Down Under equivalent of legendary Alaska bush pilot, Jake "Crash" Whitakker in my novel, The Last Bush Pilots.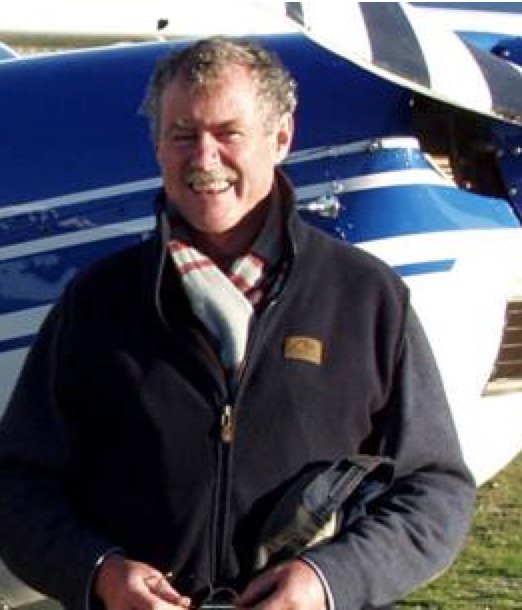 In Volume 4, we share a story from his memoir, Memories Not Dreams, a thrilling collection of true tales from one of the original pioneers of New Zealand aviation.
Written in similar format to our There I Wuz! series, Memories tells many tall yet true tales of Jules' life in the untamed skies of the New Zealand Outback. Tapper is one of those rare breed of "been there done that" pioneer bush pilots who lived by his own rules and that of Mother Nature, and forged his own path, in a time when few had ventured into the wilds of New Zealand.
Each of Tapper's short stories comes with a liberal dose of humility, humor, sobering lessons learned . . . and often copious amounts of dynamite!
In Volume 4, Jules shares his story, "Midnight Express," and it has a bit of everything: backwoods survival, aeronautical ingenuity and skill, a bit of youthful chutzpah, sheer luck—and a few serious, sobering lessons for today's pilot.
There I Wuz! Volume 4…
Captain Raphaël Favre
The Day that Lasted 42 Hours
You met Captain Favre this summer, when I jumpseated with him on a leg of his epic 'Round the World journey with Breitling's fully-restored DC-3.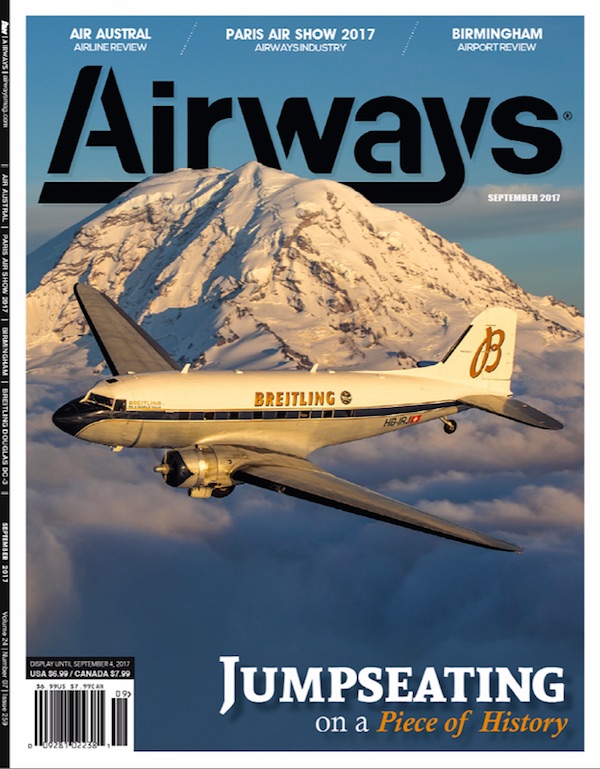 You read our articles in Airways Magazine, and heard some amazing tales of derring-do by these intrepid aviators, in a bid to become the world's oldest aircraft to circumnavigate the globe.
Well, this September, they made it all the way back to Switzerland!
But, what you haven't heard, is the grueling details of their toughest journey, the harrowing, mind-numbing marathon flight across the Pacific ocean—at 1,500 feet above the ocean!
In Volume 4, Captain Favre writes in excruciating detail about that flight.
This story, you don't wanna miss!
OK, OK, Cap'n Aux, I'm sold! When's it out? How much? How do I order? Tell me! Tell me!
Hold your horses, sonny, the details are comin' soon to an aviation blog near you!
This is Cap'n Aux . . .
Writing off!