The Last Bush Pilots
AMAZON TOP 100, MAINSTREAM FICTION—AMAZON BREAKTHROUGH NOVEL AWARDS 2013!
You won't want to put it down while the midnight sun still shines!Airways Magazine
"MAYDAY, MADAY! I'M GOING DOWN, I'M GOING D—"
Two young pilots, Daniel "DC" Alva, and Allen David Foley, take on the world's most dangerous flying: the Alaskan bush. But Mother Nature—and a sexy Native Alaskan—stand in their way.
Southeast Alaska Seaplanes, Juneau. Retired airline captain Dusty Tucker pilots a renegade band of flying misfits. Meet legendary bush pilot Jake "Crash" Whitakker, equally adept at landing planes and ladies—and "crashin' 'em" as well; prankster pilot Ralph Olaphsen, who once set an extinct volcano ablaze on April Fool's Day; and no-nonsense Check Airman Holly Innes, trying to cut a respectable niche in the notoriously macho bush pilot world—while escaping a dangerous past.
Amid Alaska's volatile skies, DC and Allen face escalating challenges in and out of the cockpit. As the two cheechackos, or greenhorns, learn the ropes, they are also roped into Crash and Ralph's hare-brained scheme, Operation Dirty Harry. Under the suspicious nose of Draconian FAA Inspector Frederick Bruner, the pilots hatch a plot to hijack and rescue a planeload of orphaned bear cubs. Meanwhile, mischievous Tlingit Indian Tonya Hunter, as wild and unpredictable as the land in which she lives, plays the two lovestruck cheechackos against each other.
But the true villain of the story is Mother Nature herself. Alaska's notoriously fickle weather and rugged terrain take on a life of its own.
Can the two cheechackos survive Her relentless onslaught and launch their fledgeling airline careers?
Last Bush Pilots – Trailer from Capnaux on Vimeo.
Eric Auxier is the next Tom Clancy of aviation!Tawni Waters, Beauty of the Broken
For more information, visit: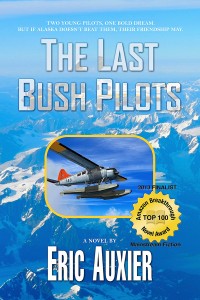 Buy on Amazon
Buy on iTunes
Buy in Print
I flew through The Last Bush Pilots in one sitting, keeping my seatbelt securely fastened. A fast-paced tale, thoroughly enjoyed.John Wegg, Editor Airways Magazine
The author paints pictures with words that are every bit as beautiful and moving as anything ever drawn or photographed.Aviationguy.com
Mark Twain published the ultimate adventure known as 'Tom Sawyer'. Jump ahead 100 years to 'The Last Bush Pilots'. There is risk, there is danger, there is love, and yes there is death. This is the frontier, and if you have a spark of adventure left, you can still see yourself as a modern day Tom or Becky.PaxView.com
A page-turning adventure novel, where surviving is only half the battle.Mark L. Berry, airline pilot-author, 13,760 Feet
Captain Auxier takes you into another world—one that he has lived. The place were pilots are born, and many have died.Karlene Petitt, airline pilot-author, Flight for Safety; and Flight for Control
With 12,000+ hours of arctic Alaskan bush flying to my credit during the 1970's and 80's, reading The Last Bush Pilots was like a glance in a forty year old mirror.  Nice work, Eric.CloudDancer, author, CloudDancer's Alaskan Chronicles