Ladies and gentlemen, welcome aboard our FIRST in a series of guest posts by women of, in, or just "plane" crazy about, aviation!
  Kicking off our series is Jennifer S., an accountant for a large U.S. airport in the Midwest. Unlike most of her bored (and boring?) coworkers, she is absolutely gaga about aviation. She has recently started her own blog about her experiences there, called Tales From the Terminal, and let me tell ya, it's a hoot!

  Jen possesses a zany, whimsical style reminiscent of one of my favorite aviation bloggers, Miss TWA—whom we'll hear from during this series as well! The fact that Jennifer can turn a mundane job like accounting into a refreshing, laugh aloud aviation experience is testimony to her talent.
In short, she's our kind of avgeek!
Be sure to visit her blog over at:
Without further adieu, I give you . . . Jennifer!
..
Aviation-Related Jobs That Need More Women… Just Not Me!
by
Jennifer S.
"Men, men, men,
It's a ship all filled with men.
So batten down the ladies room
There's no one here but men!"
– From "Men" by Martin Mull & Steve Martin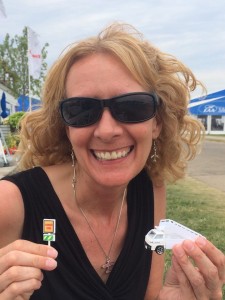 Many segments of the aviation industry are populated primarily by men. But that's not an issue for me. There are a lot of women where I work. Unfortunately, 99% of them don't know or care about airplanes. They think Airbus is a bus that missed a sharp curve in the mountains. VFR? IDK! National Aviation Day? Never heard of it.
Oh – did I mention I work for an airport?
That's right. It's Mecca for avgeeks.
Except there are very few avgeeks actually working there, and even fewer of those are women.
Allow me to introduce myself – my name is Jennifer and I am the one percent.
Being an avgeek means I love working at the airport. I love seeing airplanes every time I look out the window. I love seeing ground equipment too. In fact, I've developed a whole new appreciation for what it actually takes to get planes into the air. I've also developed an appreciation for why they keep me tucked safely away in a cubicle in the accounting department. If they ever let me near the ground support vehicles I would have waaaaaay too much fun!
What follows is an adaptation based on two posts I've written about aviation support jobs that, as it happens, don't have a lot of women working in them. Do we need to get more women into these jobs? Absolutely! Should I be one of them? Um… probably not!
 —Jen
Aviation-Related Jobs That Need More Women… Just Not Me!

AirStairs Truck Driver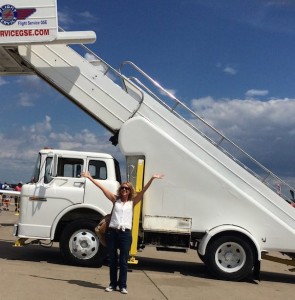 For those of you who don't know me, let's go ahead and get this out in the open right away. I have a thing for motorized stairs – aka the stairs truck. Why? Because HELLO – they're stairs that you can drive!!! I mean how freaking cool is that? I am dying to get behind the wheel of the stairs truck! The problem is I'm pretty sure you'd never get me out again because I would be too busy driving around attempting every creative use of the stairs I could possibly imagine.
Airport Security: "Oh for heaven's sake – she's up on the FBO roof again!"
Airplane Tug Driver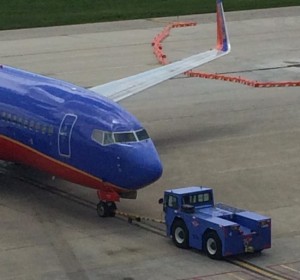 Slower than the motorized stairs but able to create just as much mayhem, the airplane tug has one major thing going for it – I haven't the faintest clue  how to hook it up to an airplane. I can't tell you how fortunate this is. Just imagine the trouble I'd get into otherwise!
Captain: "Ladies and Gentlemen we apologize for the delay. We'll get under way just as soon as we can get this crazy tug driver to stop pushing us in circles!"
First Officer: "Oh look – they're trying to lure her away with a stairs truck!"
Baggage Handler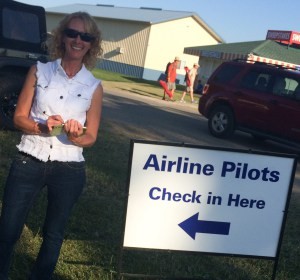 Baggage handling is a labor intensive job that involves a variety of skills from driving the baggage cart to lifting and loading bags. I suck at lifting and loading, which is why you'd likely find me doing one of the following instead:
– riding around on the baggage carousel.
– joy riding in the baggage tug.
– riding up and down on the mobile conveyor.
– fleeing annoyed pilots and angry passengers.

Airplane De-icer/Anti-icer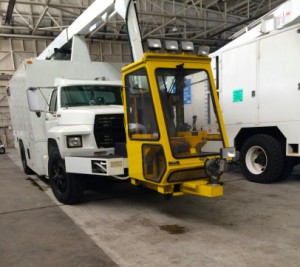 One of the coolest things about working at an airport in the winter is watching the guys and gals in the de-icing rigs swoop around spraying de-icing liquid over the planes. The only thing better? Being one of those people in the de-icing rigs!
Me: "Yes, I know I already de-iced you six times but I think I missed a spot! Let me just get the wings one more time. And the tail. And the spot on the windscreen just above the captain's face. And… uh-oh – here comes security again!"
Snowplow Driver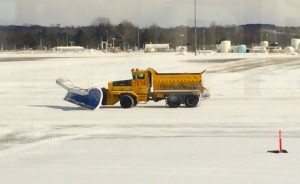 Have you ever had the opportunity to stand next to an airport snowplow? I have, and let me tell you those suckers are HUGE! In snowy weather they get to drive up and down the runways at all hours of the day and night. I've been assured this isn't nearly as fun as it sounds. I think I should be given the opportunity to find out for myself! Of course I have no idea how to drive a snowplow…
Airfield Supervisor: "Send a tow truck – she's managed to get the snowplow stuck in a ditch again."
Tow Truck Driver: "But…it's July!"
Airfield Supervisor: "I know!"

Airplane Marshaller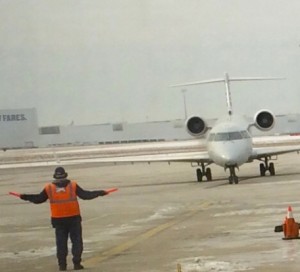 You get to play with mini light sabers AND direct airplanes? Oh heck yes!  How awesome would that be? Well, awesome for ME anyway.
It's questionable whether it would be at all awesome for the poor pilots who'd be stuck trying to follow my directions.  
Captain: "What the heck is she doing?"
First Officer: "It looks like she's in the middle of a light saber battle."
Broom Truck Driver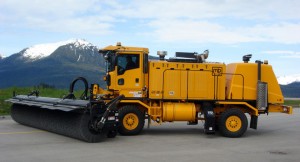 Ah, the Broom Truck! Every bit as awesome as the snowplow but better because it is used year 'round! It scrubs snow off the runways in winter, and rubber off them in summer. If someone were to make the mistake of allowing me to drive the Broom Truck I'd be quick to find as many alternate uses for it as possible, including:
– cleaning up the streets
– cleaning up crime
– cleaning up debris from all the buildings and cars I accidentally destroyed while cleaning up the streets and crime! Oops!
  So all you avgeek ladies out there, come on out to the airport – we've got a job for you! I know you can totally rock it! (Let's face it – you can't possibly do worse than me!)
Oh – and if you luck into that sweet stairs truck driving job, can I get a ride?
PULEEZ?!?!?!
Thank you, Jennifer! I hope you get that coveted stair truck joy ride—but, sorry, my jumpseat is booked up . . . um, for the next 12 years!
Once again, be sure to visit Jennifer's blog over at:
Women of Aviation Series Posts
—  —  —  —
LINED UP & WAITING
Departing all month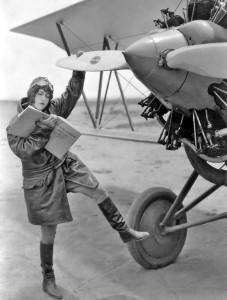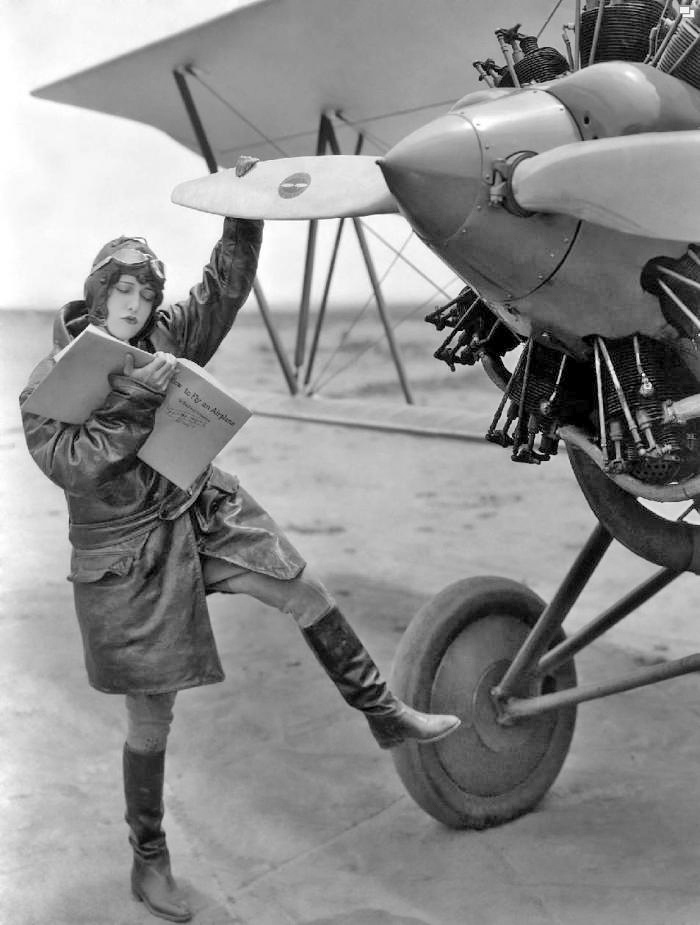 More Aviation Adventures of the Feminine Kind, with . . .
—Dianna Stanger
And a surprise or two!