Special Passengers, Easter Fun & Honoring Private Laverty!
Special Passengers & Easter Fun
Hey folks, from the Flight Blog, this is Cap'n Aux speaking…
Here's some overdue photos of Blog Buddies and Passengers I've had of late, and some fun stuff from Easter.
Enjoy!
Even though Bunny and I both worked over Easter, we had fun. Did you?
Special Passengers, Easter Fun & Honoring Private Laverty!
Epic Cap'n Meetup
Recently, we had a "Capn's Breakfast," in order to meet up with a couple of our venerable retirees.
Who's that guy with the bag over his head, you ask? None other than our own fellow Airline pilot-author & Blog Buddy, CloudDancer! A contributor to There I Wuz! Volume 1, Cloudy is a former airline pilot with us, who took an early out to return to his first love—flying the Alaska bush! He also writes his own There I Wuz!-type series, a hysterical collection of short stories called, CloudDancer's Alaskan Chronicles, which are available at
Check 'em out, you'll love 'em!
Cloudy was the instigator to said meetup, and along with his visit to the "Outside," as those local Alaskans call us down here in the Lower 48, we also had (L-R, above) Cap'n Dave of our famous "Cap'n Dillon's Ecstatic Adventure" video fame ( http://vimeo.com/capnaux/dillon); retired airline Cap'n Mike S; a long time buddy and corporate Falcon 2000 Cap'n John R, coincidentally in town on an overnight; and fellow A320 Cap'n Tony A (in uniform. One of the funniest men I've ever met—and I'm not just talking looks!)
I tell you, Tony, Mike and Cloudy all tag teamed us with flyin' stories and, ehh, colorful jokes, which kept the three of us "younger Cap'n pups" in stitches for two solid hours! (Most of which canNOT be repeated in mixed company!)
We'll hear more about Tony's cool new aviation site in an upcoming blog post!
Special Passengers, Easter Fun & Honoring Private Laverty!
Honoring Private Laverty

Finally, I'd like to finish by dedicating this blog post to an amazing young man who just graduated from Army Basic Training, Private Matthew Laverty, son of none other than Team Aux's Producer, Bunny.
Congratulations, Private, we salute you!!!
Bunny and I were able to attend the graduations ceremonies at Fort Benning, GA last week. It was our first exposure to anything military. I must say, the American Military knows how to put on a good show—and I'm not even talking about their lethal prowess!

Seriously, though, Private Matt, you are MY NEWEST HERO. I salute you and ALL members of the Armed Forces, who daily protect our precious way of life and liberty!
This is Cap'n Aux . . .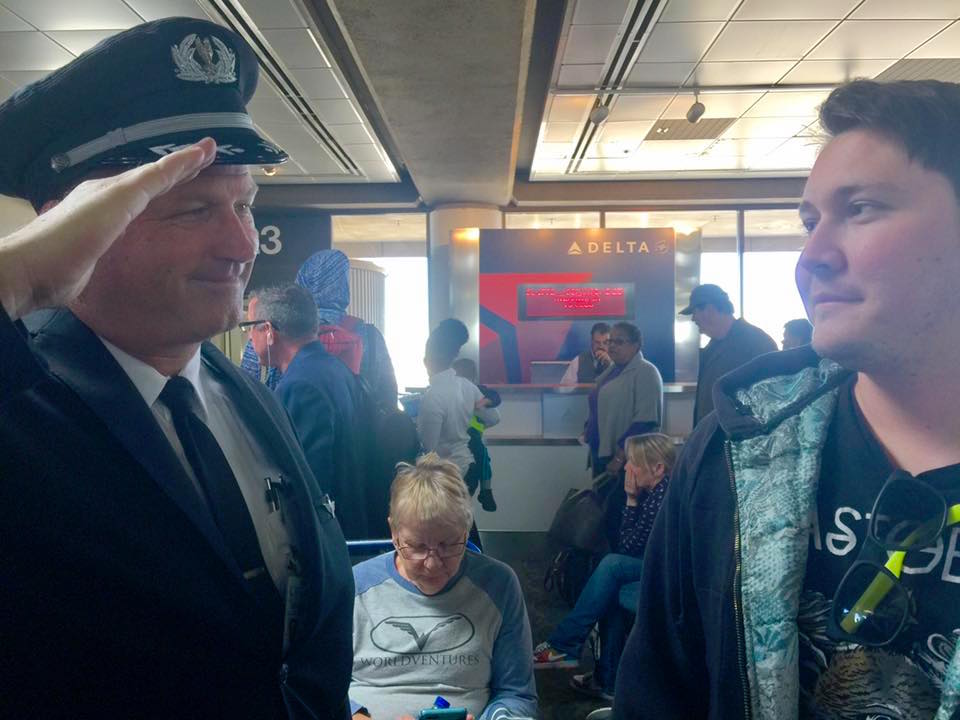 Saluting Off!
—  —  —  —
Related Links
—  —  —  —
CLEARED TO LAND
Touching down next week

Blog Buddies Part 2
Great New Aviation Sites!