THE ULTRA-COOL ULTRALIGHT FIELD!
Our Saturday started with a trip to the ultralight field for a chat with Announcer Pat Schmitz. And then . . . a flight around the patch in an ultralight!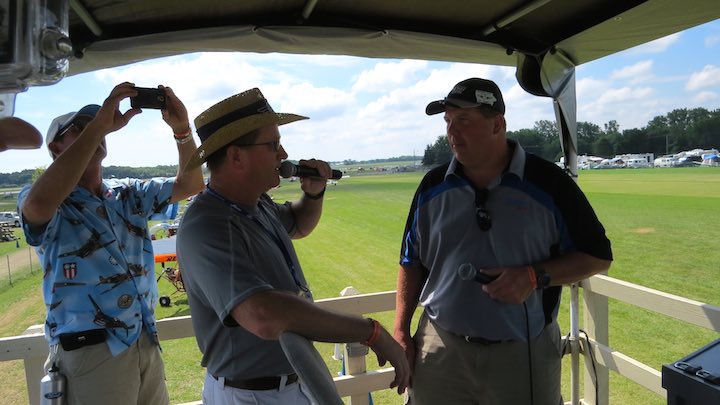 My first-ever solo flight was in a hang glider, so ultralights are dear to my heart. So amazing to see the EAA AirVenture grounds from above! People had already begun to leave our Aviation Mecca, and, sadly, the field was nearly empty, as you can see from this short clip, from my live Periscope broadcast:
THE PRIVATEER
Restored by GossHawk Unlimited, Inc., Casa Grande, Arizona www.gosshawkunlimited.com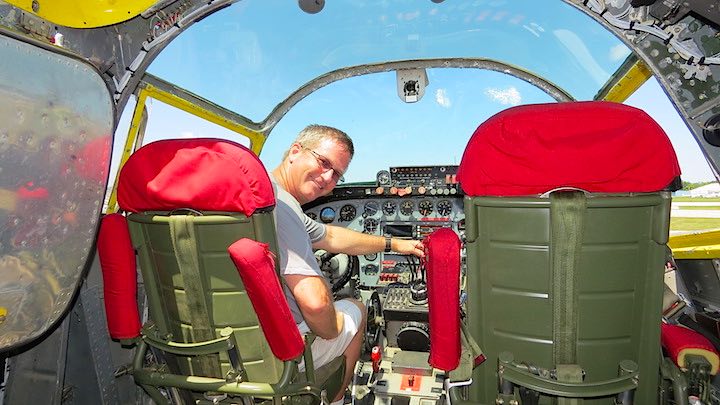 We did an interview with a great father-daughter team, Dave and Lindsey, who are part of the restoration crew for one of the world's last flying PB4Y-2 Privateers.
BLOG BUDDIES MEETUP!
For me, the highlight of my Oshkosh experience is always meeting YOU! That's what this blog is all about, and I was so grateful that you responded to my call for a Blog Buddies meetup!
And, we even were blessed with a few surprise faces!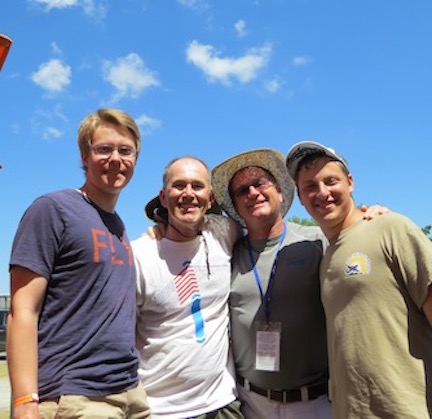 Here I am with, L-R, Matt Guthmiller, who last year became the youngest person to fly around the world solo! (See his story at limitless-horizons.org.) Next, Jeremy of MSP and Alex of ORD!
BoldMethod's Swayne Martin was also on hand, one of our original blog buddies and an all-around gracious young man who's truly going places!
I hope you all enjoy the books, and I can't wait to meet you all again next year, at OSH '16 Blog Buddy Meetup!
DOUBLE AIRSHOW DAY!
Saturday, like Wednesday, was also blessed with two airshows, a day and a night time version!
Folks, I'm heading back to PHX to reality and flyin' the line. Hope you enjoyed today's post, and I'll catch up with our final day at Osh asap, as well as put together a Word on the Ramp video featuring all the fun stuff.
Also this week . . .
LINED UP & WAITING
Black Swan Event Part 3
Our FINAL Interview with Captain Richard de Crespigny!