This post is dedicated to the memory of
US

Air

ways,

its last flight having flown into the history books today, estimated to touch down at 06:08 EDT, the very same minute of this post.

Now part of the "New American Airlines," the world's largest airline, it will fly on along with the rich legacy of past carriers rolled up into one . . .

(See, "USAirways History" in "Related Posts & Links" below  this post.)
Full Video Link: https://youtu.be/GOE87x4aGWQ
(Thanks to Blog Buddy George C for the video share!)
All,
I

t's been one heckuva hectic week in both cyberspace and airspace.
So much fun stuff to cover!
First of all, once again a heartfelt THANK YOU for making the release of my new novel Jihadi Hijacking the success it is!
We had an online contest, and every 5th person to follow me on Twitter (@capnaux) got their own copy of the book. The contest went so fast, it made my head spin! And, congratulations to Fast-Followers Kenny W, Tawnie J, Justin S, Paula R and Wendy H!
Missed out? More fun giveaways to come, so stay tuned!
By now, some of you have had a chance to read it, and I'm loving your reviews! Those Amazon comments help immensely, as readers use them to gauge whether they want to read a book, so I profusely Thank you!
Jihadi Hijacking is still available at minimum price in both print and ebook through Tuesday, Oct. 20, so grab it quick!
To write a review or order the book, here are the links: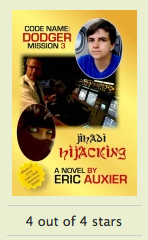 One special review I'd like to share is from Online Book Club, who gave it
4 out of 4 stars!
"A a well-executed juggling act with just the right amount of humor. A highly detailed, entertaining, and character-driven spy thriller!"Online Book Club
Here's a link to the review. Enjoy!
http://forums.onlinebookclub.org/viewtopic.php?f=53&t=30876
—  —  —  —
It's also been a fun few weeks at work, as I wound up meeting some of our Blog Buddies around the country!
First off, Congratulations to Chris and Miki G., who celebrated their 20th anniversary!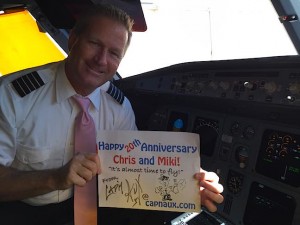 Chris and I cooked up a surprise for Miki as they headed off to Spain for the weekend to celebrate their anniversary.
Not only did I give them this "congratulations" sign from the cockpit, but we also got to surprise Miki at their departure gate!
As an anniversary gift, I sent them off with a couple signed copies of my books, including Jihadi Hijacking—at the time not even published! In return, Chris gave me a spiffy "Heritage" bag that they give out in first class that I had been ogling. It's perfect for my new kindle, so Thank You, Chris!
And CONGRATS to both of you!!
Chris and Miki, forever diehard avgeeks, flew on a segment of USAirways' #1939, from PHX-SFO!
This is what they had to say: "Today is a bittersweet day for Miki and I as we get ready to fly on US Airways flight "1939" from PHX-SFO, our last flight ever on US Airways. Flight "1939" (the year US Airways started) will cross the country from PHL-CLT-PHX-SFO-PHL to celebrate the final flight of the airline. To most people this means very little, but we have flown US Airways over 400,000 miles over the years and enjoyed the ride."
—  —  —  —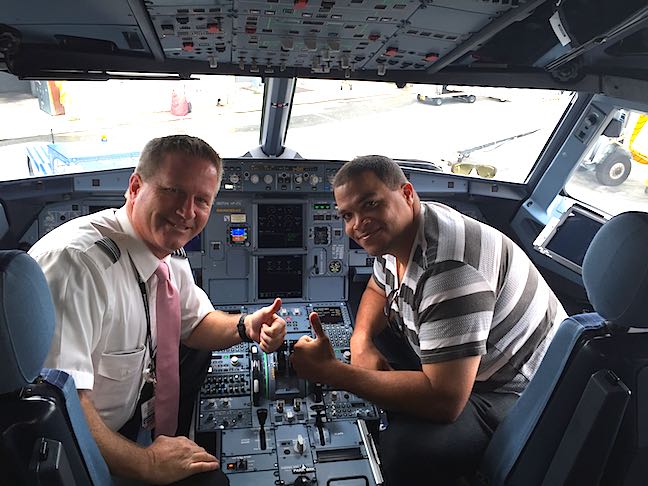 One of the most wonderful delights I get to experience while whisking around the country is occasionally running into Blog Buddies like you, who by pure chance happen to be flying on my flight! Well, this week it happened again with Bruce F! He was so thrilled (as was I!) that I simply had to give him a copy of The Last Bush Pilots to entertain him on his connecting flight!
His response: "By prayer and luck I ran into you today. My aviation dream just became more alive. Thank you so much!"
Bruce, Thank YOU!!!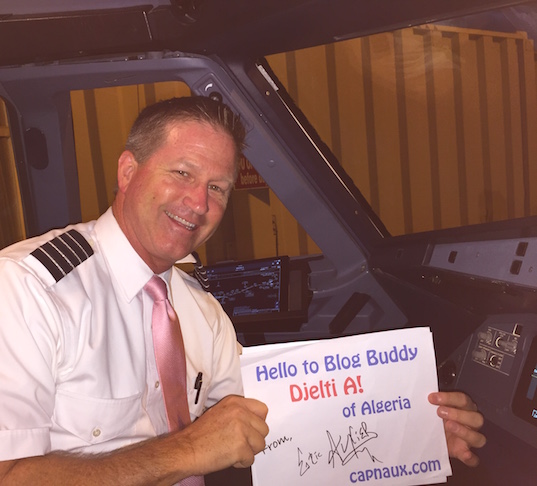 Here's a couple more greetings, including one that went out to one of our newest Blog Buddies, Djelti A. of Algeria.
It simply boggles my mind to think that, through the magic of the internet, we have shrunk the world to the size of a village, and the magic of aviation has brought us all together, right here!
Another Blog Buddy, Jennifer, happened to be plane spotting after work at the airport, just as I passed through town.
She caught some great shots! Jennifer is the author of "Tales From the Terminal," (talesfromtheterminal.wordpress.com) a fun blog that I love to frequent. She also kicked off our recent, "Women of Aviation" series.
She caught some great pics of our takeoff roll, and watch her amazing video as we sail off into the sunset!
Thanks for some keen spotting, Jennifer!
VIDEO (It's only 30 seconds; watch to the end!)
—  —  —  —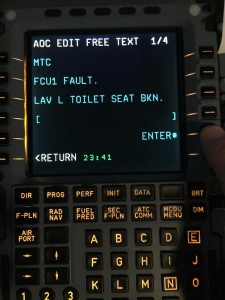 Recently, we had an, er, um, "slight delay" onboard.
So, I invited the passengers up to visit us in the cockpit.
It always amazes me what special people we carry in back!
—  —  —  —
Here's a great shot I got of LAX's famous restaurant, as we waited curbside for our crew van.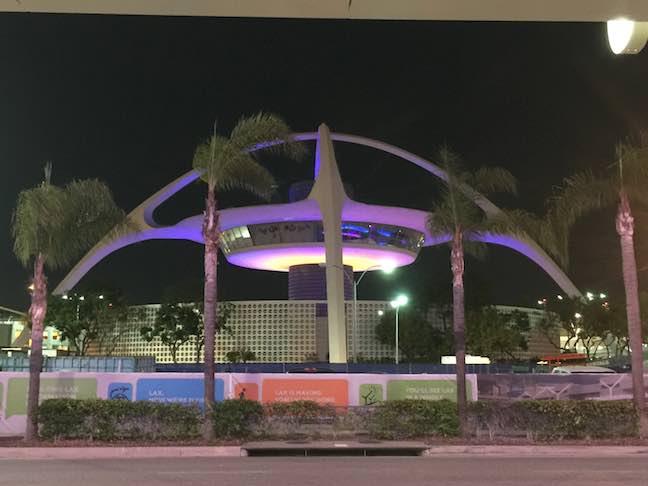 And, speaking of LAX, I was recently interviewed by the LA Times. Astute Blog Buddy Agustine J. caught the link and sent it along for us to enjoy. Everything you ever wanted to know about runway construction but were afraid to ask! http://www.latimes.com/…/la-tr-spot-20151004-story.html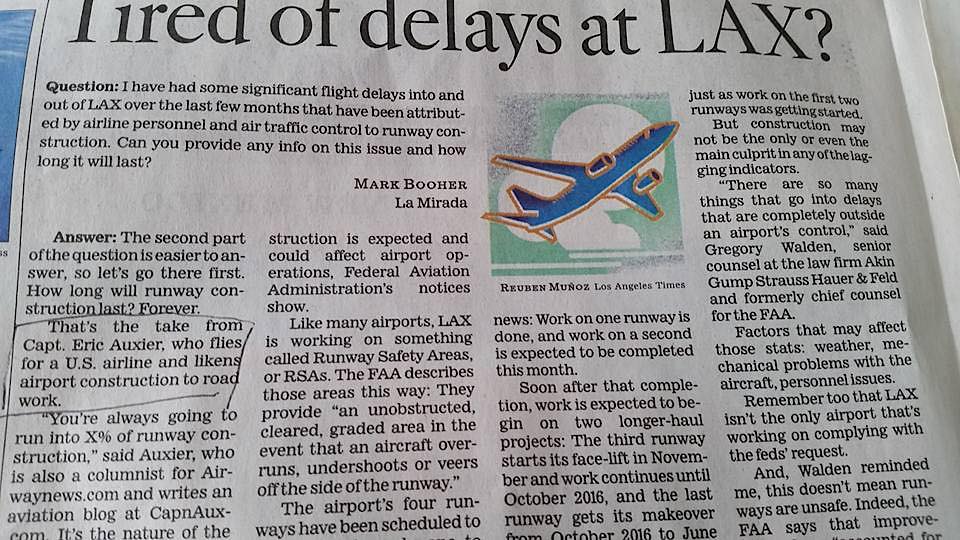 —  —  —  —
ORANGE

TIE AFFAIR
A Gala fund-raiser with Janet the Fairey Gannet team, featuring Jay Leno!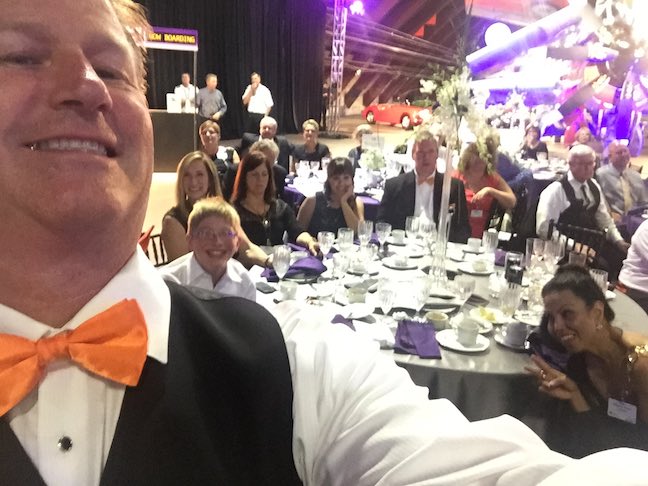 Janet's owner Shannan Hendricks and pilot Harry Odone invited us up for the event, and boy was it EPIC! That evening, Gillette's "Come Fly With Me" fundraiser event raised nearly $1/4 million to build a new children's hospital wing!
At St. Paul Airport's hangar, we were surrounded by classic cars and planes, from a James Bond Aston Martin to the original Batmobile, from vintage WWII bombers to modern Gulfstreams!
During the $250/plate dinner, The Gillette Foundation raised over 1/4 million in donations to build an extra wing of a St. Paul Childrens' Hospital!
Bunny and I were so proud to be part of this amazing event. And get this—Leno not only ROCKED it, he donated $10,000 of his own money to inspire the audience to chip in, raising an extra $80,000 on top of the original goal!
Now, that's what you call a CLASS ACT!
And guess what: Janet the stunning Fairey Gannet won "Best In Air!"
Don't miss the Fairey Gannet at: http://www.faireygannetxt752.com

—  —  —  —
Catchin' up with Team Aux
It's been awhile since I featured some of our team, so here's some pics for ya!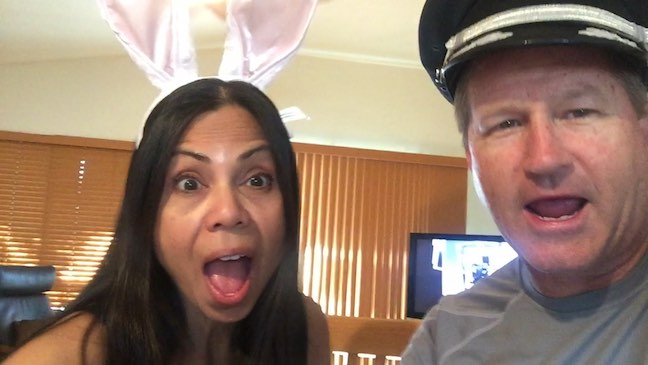 Bunny and I singing Happy Birthday to Blog Buddy Elliott H of the Netherlands.
(Believe me, you don't wanna hear the soundtrack!)
Off to sushi power lunch with Cap'n Dillon and Otto Pilot!
—  —  —  —
And, by Special Blog Buddy Request,
Cat-chin' up with Vicious Attack Cat Tarzan!
Here's the T-man himself, reporting back to me after making the rounds:
"Cap'n Aux, Vicious Attack Cat Tarzan reporting perimeter secure. All clear!"
"Roger that, VAC Tarzan."
"Permission to mooch off your yummy dinner, SIR!"
"Permission granted!"
—  —  —  —
FINALLY

,

Don't forget to sign up for our Airways Magazine/AirwaysNews.com 2016 cruise in January!

As we sail through the Caribbean to every avgeek's ultimate destination—Maho Beach—I'll be giving several talks, including sharing pics form my insane experience battling Hurricane Hugo in my Twin Otter!

I'll my books on hand, to giveaway so you can lounge the sunny days away in your deck chairs . . .

So, don't miss out!

Bunny and I are all paid up and rarin' to go!

Note: As of press time, United Airlines CEO Oscar Muñoz has been reported to have suffered a heart attack.

Sir, our prayers go out to you for a speedy recovery!

Link: http://www.cnbc.com/2015/10/16/united-ceo-oscar-munoz-had-a-heart-attack-in-hospital-dj-citing-source.html
Related Posts and Links
Other Women of Aviation Series
NOW BOARDING
Popular Aviation Myths…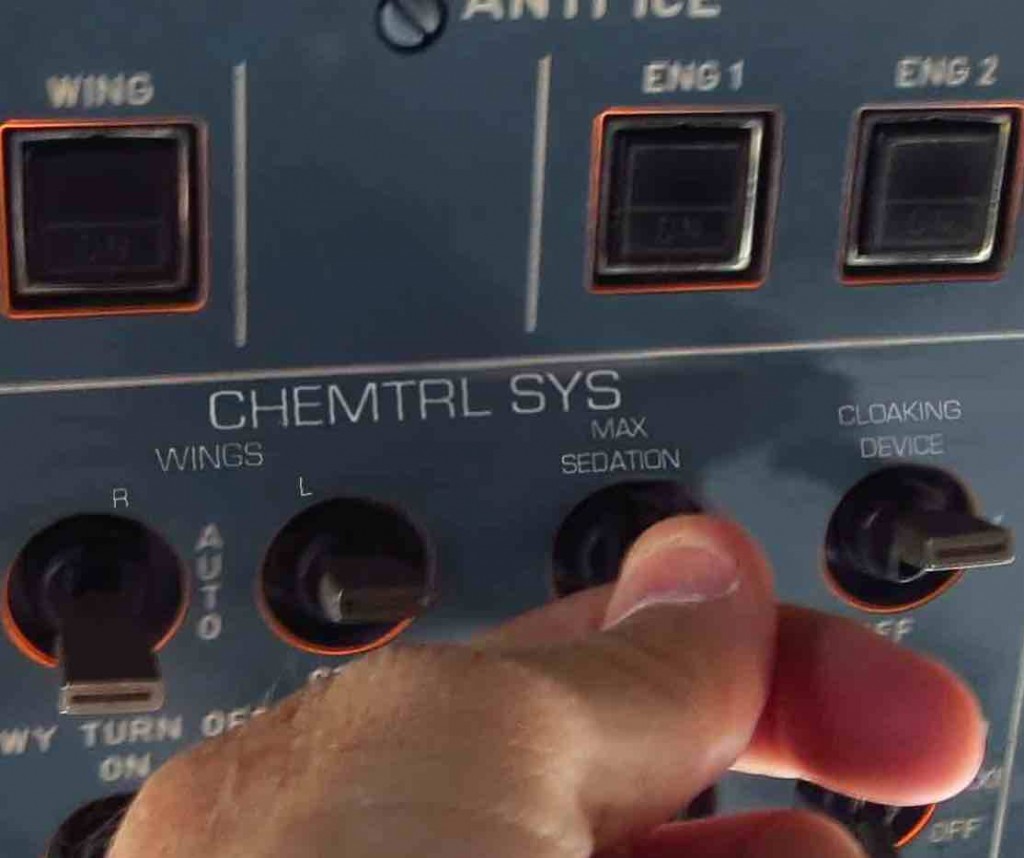 BUSTED!