Folks, it's been a few days since I've updated the blog, but I wanted you to know that I've been working hard behind the scenes to bring you some excellent content!
..
BUT FIRST . . .
Today is Pearl Harbor Day—the "Date Which Will Live in Infamy"—a day of remembrance for those lost in the attack on Pearl Harbor, December 7th, 1941.
Click me:

..
My father proudly served in WWII as a Naval Petty Officer. He was a RADAR technician aboard the Destroyer U.S.S. Preston in the Pacific.
Here are a few links for activities to educate and commemorate the day:
..
..
AND NOW . . .
QZ8501 & AF447
  For starters, since our Thanksgiving post, I've been collaborating with A330 Captain Bill Palmer ("Understanding Air France 447") to analyze the findings of last year's AirAsia 8501 accident, and have come up with some important lessons to share with pilots and aviation enthusiasts alike.
  We are currently coordinating with Airways Magazine and AirwaysNews.com for a release date, and I expect that soon.
AA550
  Also in collaboration with Airways Magazine and AirwaysNews.com, we have an amazing exclusive interview with American Airlines First Officer Steve Stackelhouse, the "co-pilot" who diverted AA550 inflight after Captain Mike Johnston's heart attack.
  Sadly, we lost our comrade Captain Johnston, but FO Stackelhouse's quick thinking and excellent airmanship saved the day.
  This is an EXCLUSIVE and detailed interview with my personal friend and coworker Steve, who wanted to share his story with the aviation community, and not just a random reporter who may not have experience with the airline business.
  We feel very honored by FO Steve's gracious offer, and stand ready to properly share his story, as well as that of the late Captain Mike Johnston.
Here's BBC's article on the story: FO Saves Flight.
  This interview will be released sometime around Christmas, both online at AirwaysNews.com, and a more in-depth feature in the print issue, which will release that day in Airways Magazine, worldwide, in 35 countries. Don't miss it!
  Also upcoming are several great guest posts, including a really fun one from a teen who's building her own airplane, right in her garage! Another gem is an on-the-scenes report, as I "fly the line" with First Officer Joshua as he and his captain make the rounds in their Pilatus turboprop for Boutique Air!
QATAR 787's & 777's!
  I'm very proud and excited to present to you a special report from NYCAviation.com's Mark Lawrence, who recently toured Boeing's 787 Dreamliner factory, flew Business Class on Qatar's delivery flight of one of their Dreamliners, took in the Dubai Airshow, and waltzed back home in First Class luxury aboard a Qatar 777! Read his initial article in NYCA Here.
Last but not least, I'm cooking up another Word on the Ramp video for you as well. In the meantime, here's last year's Word on the Ramp, special "Trekkie" Christmas edition!
JANUARY EXTRAVAGANZA!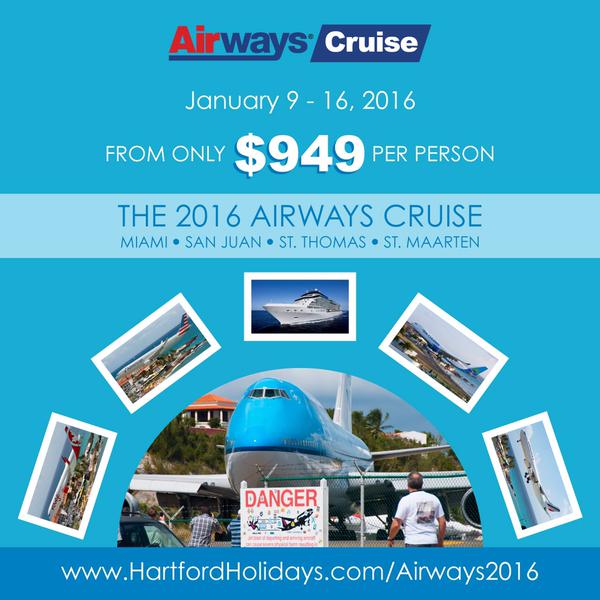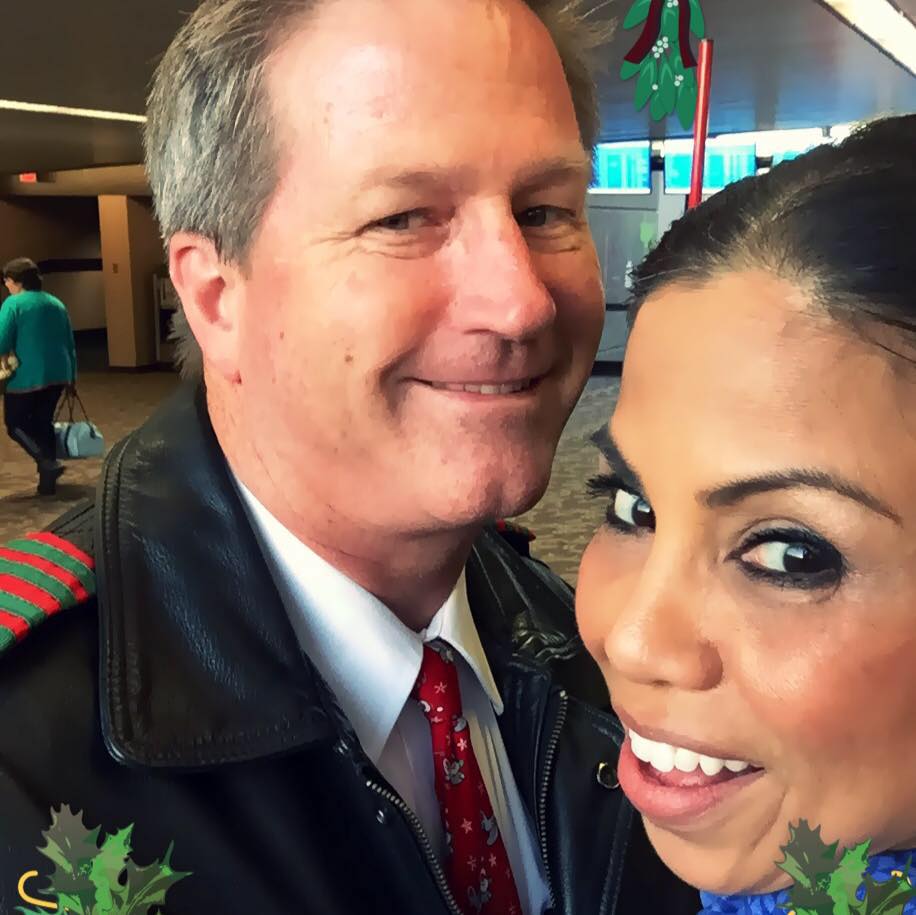 Finally, I can't wait for January, when I'll be blogging to you from the high seas of the Caribbean, as Bunny and I join dozens for fellow aviation enthusiasts from around the world for Airways Magazine's Avgeek Cruise! I've been invited to be a speaker aboard, and having flown in the Caribbean, I've got tons of fun tales to share! Maho Beach, St. Maarten, is our final stop, the "Mecca" of plane spotters the world 'round.
COOL AVGEEK PREZZIES & CAP'N AUX SWAG!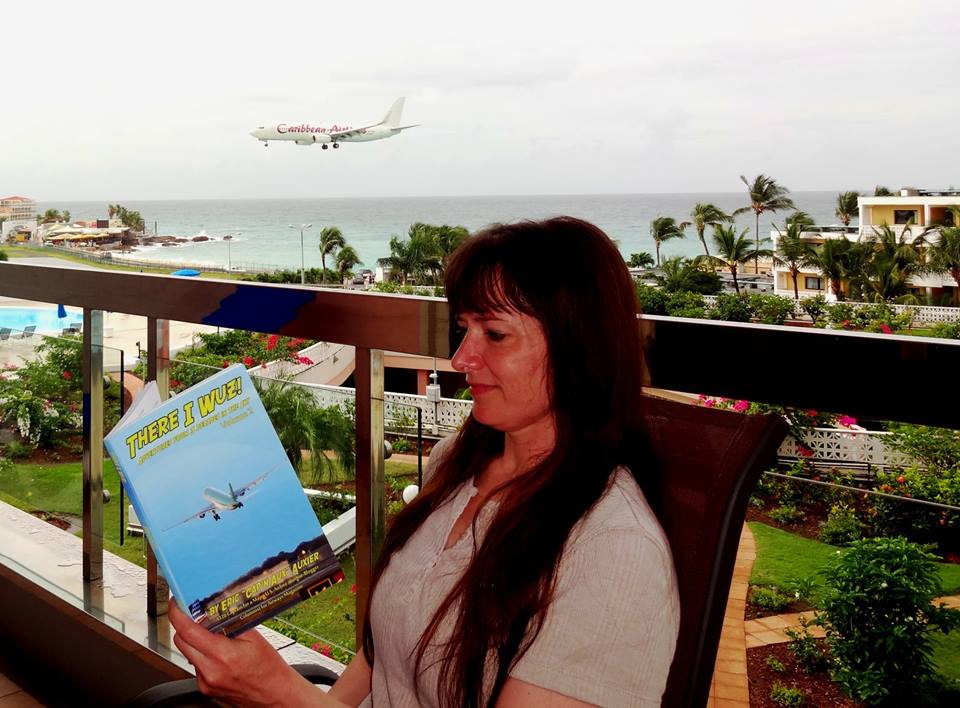 Here's a great shot of our blog buddy Miki G, taken by her hubby Chris, from their chateau on St. Maarten, reading my book, There I Wuz! Adventure From 3 Decades in the Sky Volume 2 as a Caribbean Airlines 737 lands next door!
  Speaking of which, don't forget that ALL my books are MAX DISCOUNT through the Holidays, print, ebook or audiobook—you name it! That includes The Last Bush Pilots, and my two latest, There I Wuz! Volume 2, and Jihadi Hijacking!
  And, as you gift the gift of aviation adventure, you'll be helping orphans, as 1/2 of all author proceeds go to the orphan charities FlyingKites.org and KinshipUnited.org!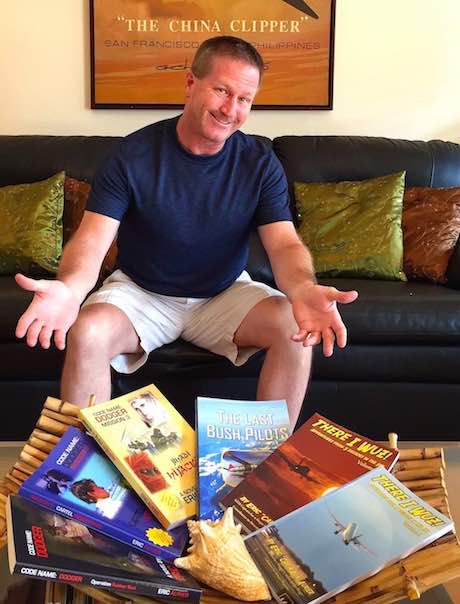 Amazon Book Links
  While you're at it, check out all the fun Cap'n Aux Swag over at CafePress! From hats and shirts to coffee mugs, we've got the discerning avgeek on your list covered! Direct Swag Link: http://www.cafepress.com/capnauxswag
Ladies and Gentlemen . . .

________ 
Have a Happy Holiday month, a
Merry

Christmas

,
Happy Hanukkah

,
and an exemplary New

Year

!
______
..
This is Cap'n Aux . . .
signing off!